SAP External Document Management
Improve your SAP efficiency with a certified solution
Do you need to adapt your business documents or modernize your internal processes?
Schedule a consultation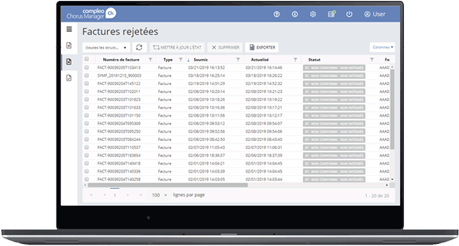 Compleo Hybrid is an easy and quick-to-install SAP extension with no development required.
Add flexibility and improve your document workflows
Document template and content integration
Manage and automate document processes
Digital document transformation and format conversion
Compleo Hybrid helps you cater to your business needs and boost your digital transformation with SAP.
Document conception and design
Thanks to Compleo Hybrid, you can design documents without disruption. Our user-friendly interface allows easy integration for QR codes, images, data and more. In addition, you can redesign each document type to adapt to your needs and corporate identity guidelines.
Personalized Delivery
Deliver documents automatically through the communication channel of your choice, such as email, print, digital storage, and EDI. This lets you exchange documents in a way that fits your enterprise. As a result, you can improve the communication channel adapting your message to the end-users, all through digital transformation.
Digital Transformation
Whatever output format (SAP GOF, XSL, SMART, OTF, IDOC), Compleo Hybrid converts to fit your preference. Adapt your data to your partner's IT system requirement or application. What's more, you can create XML, JSON, UBL, C2I, or PDF/A files and make your document readable by anyone.
Process Automation
Compleo Hybrid has an automation module that allows you to define scenarios for document processing. With just a few clicks, you can choose the actions to apply instantly depending on the document. For example, you can electronically sign specific documents and automatically send them on to internal staff, partners, clients, and other end users.
Interoperability and Interactivity
Using a BC-XOM or SAP RFC connector, Compleo Hybrid integrates seamlessly into your architecture as a document management solution external to SAP. It grants you increased flexibility with the ability to interact with many business applications or share your documents on C4C or SAP Cloud Platform. It also allows you to submit information to SAP via Archive Link and Content Server.
How Compleo works with SAP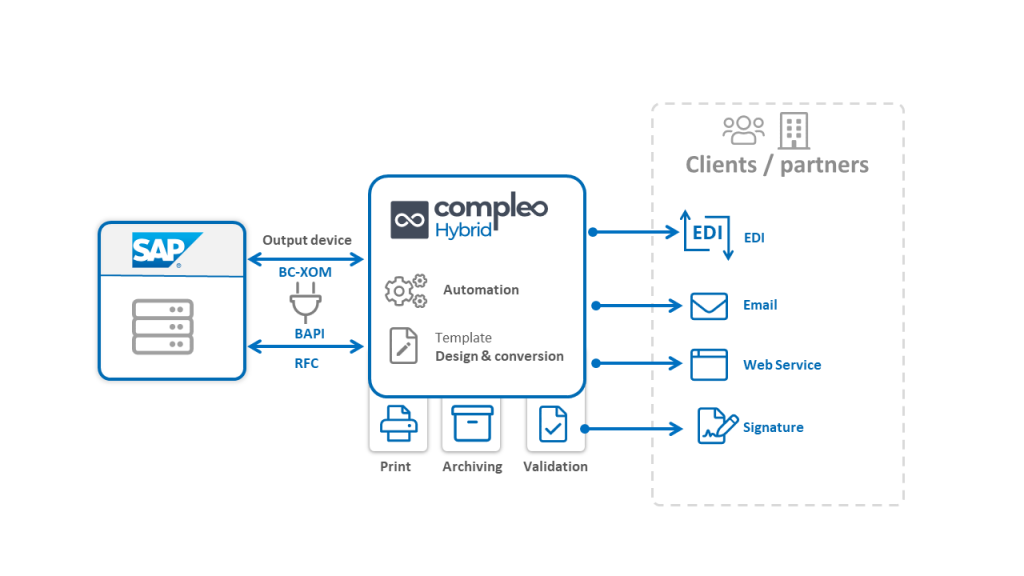 Why use Compleo Hybrid?
Adapt to new demands:
Quick and easy installation with no development
Customized document processes:
Implement a user-friendly interface
Cut costs:
Our solution automates processes and grants them autonomy
End-user satisfaction:
Prioritize your tasks and improve internal collaboration.
Want to improve your company's flexibility with SAP?
We can help!
They use Compleo with SAP on a daily basis