Introduction
Microsoft Dynamics CRM is used by sales, marketing, operations, field service and finance professionals, with each constituency having its own unique needs. The latest versions (2015, 2016 and the online Microsoft Dynamics 365) meet these needs organically where possible, supplemented by a network of certified third party applications and value added partners. One critical area crossing all departments and functions is document output management.
Supply chain documents such as shipping labels and packing lists often need to be customized based on the distribution process, product type, countries regulations and/or legal requirements. These can involve layout, content enrichment, attachments, document merges and metadata definition.
Similarly, invoices, statements, purchase orders, proposals, sales orders and statements of work must be tailored to meet the needs of the customer as well as the business: Each company has its own systems for sending a quote, digitally signing a Purchase Order or including local language in a Delivery note with regulatory attachments, etc.
Further, giving the accelerating pace of change, new forms will need to be created to fit new business practices not yet anticipated. For all of these reasons, the modern corporation requires IT to react quickly, at affordable cost. In this white paper, we will discuss strategies to help IT facilitate document change or creation in a timely manner by providing end-users flexible, easy to use tools. By so doing, IT can deliver projects much faster while minimizing the impact on expensive programming resources.
Are Default Tools Able to Address Such Requirements?
It is possible to create a Microsoft Word mail-merge document with CRM data using standard tools, but there are severe limitations regarding the level of information available. For instance, you can only access one level of sub-entities or related tables to extract the relevant information. Further, only information for a record type (entity) can be selected. As an example, if you work with the Invoice record, you will not easily be able to include data from the Contact entity.
In terms of the output itself, bar code conversion, digital signature positioning, multi-channel distribution are time consuming and tedious to implement. On the architecture side, background processing to handle high volume and document security are areas of exposure.
Which Strategy to Customize Business Documents?
Customization should mean easy personalization, not dependence on an IT resource or CRM Version. Too many business document customizations do not survive change. Migrating those that must be maintained is often a lengthy and costly process.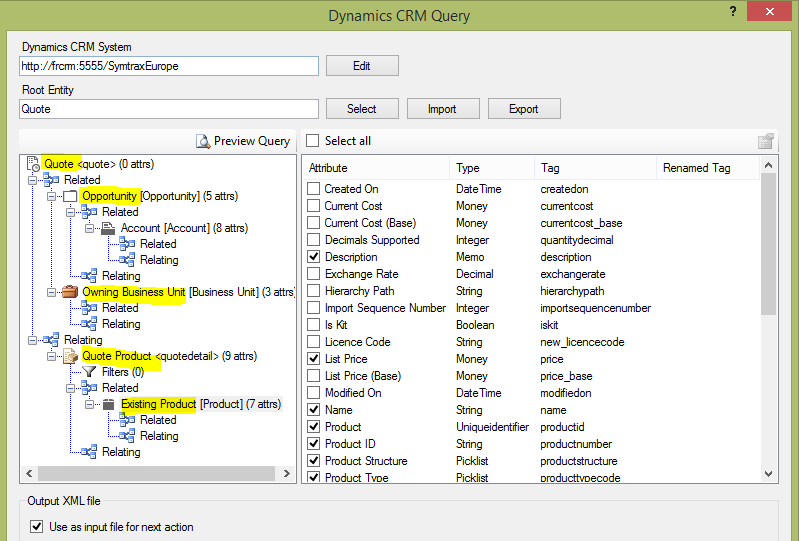 Multiple entities, multiple record types, all CRM data accessed at once for resourceful business document design.
Communication is offered by a CRM add-in using Web Service technologies. This add-in provides relevant Dynamics CRM data that can then be used by a Windows designing system such as Compleo Suite. Dynamics CRM User triggers a WORKFLOW or DIALOG, which are CRM native features, from any Entity, or a list of Entities selected by an advanced search, or from an automatic action such as creation / update. The full list of CRM fields is made available for browsing and selection.
Users can easily move fields into the appropriate business document, customizing a one-time template that can be automatically launched on CRM action. No Dynamics CRM development is required. A user-friendly GUI interface can replace developer tools otherwise required, resulting in a faster implementation as well as a self-service solution benefiting your end users.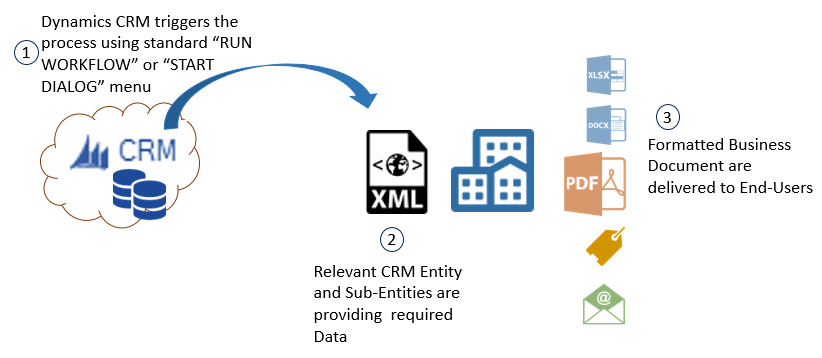 One-time templates, secured connections, no change in Dynamics CRM, intuitive document design, End-users flexibility to apply changes, IT control on data extracted and CRM access.
How Microsoft VARs, Integrators or Service Providers Can Better Support Dynamics 365 Customers
On top of existing CRM features set-up and IT services, you may do much more for your SME customers. Increasing the value of the service you offer allows you to differentiate yourself from competitors. For example, building a professional Quote detailing products, units and/or bundles, referring to Opportunity as well as Account Owner's details, attaching Terms and Conditions and embedding Manager's signature will help drive the digital transformation of a Sales department.
The Compleo Document Management solution accommodates the above scenario along with many others, from supply chain documents to internal reporting and customer facing communication. Compleo plugs directly into your Dynamics 365 CRM, whether Cloud or On-Premises, via a simple plug-in.
Conclusion
Microsoft Dynamics 365 CRM, whether accessed in the Cloud as SaaS solution or On-Premises, can be extended to deliver much more by leveraging the partner ecosystem. Where business documents are concerned, Microsoft partners like Symtrax can help power digital transformation, surpassing the expectations of Enterprises, VARs and Integrators. To learn more, visit www.symtrax.com.
About the Author
Kirk Fackre – Director, Enterprise Solutions
Throughout much of his career, Mr. Fackre has concentrated on how technology helps organizations become more productive by capturing, organizing and sharing critical knowledge, information and expertise.
Prior to joining Symtrax, Mr. Fackre cofounded Airtime, a Mobile SaaS Solution provider and ResearchAgent Corporation where he pioneered a product line used to manage web content.
Upon graduating from the University of Massachusetts at Amherst, Mr. Fackre joined Equitrac Corporation, where he enjoyed a long and successful career in a variety of progressively responsible leadership and sales management positions.
About Symtrax
Symtrax is a worldwide software company specialized in Data and Document Management solutions. Our business intelligence software provides companies with the ability to analyze business data efficiently. Our document management software values & delivers business documents electronically.