Introduction
End User requirements or expectations for delivering business documents are high, because they are critical steps of a workflow in a Corporation whatever its industry. Further, business document processing requires IT resources that deliver high availability and optimized reliability. Imagine the impact on your cash flow if:
Accounting omits one or more invoices on a distribution run
Shipping leaves customer orders sitting on the dock because a packing list had not been received
Manufacturing must delay an entire product run because appropriate or compliant labels are not printed on time
Quality Assurance must refuse parts because of duplicated tracking reports
In this white paper, we will discuss various Compleo Supervisor V6 configurations to support IT operations with high availability and governance.
How effective is a simple back-up configuration?
This is the default configuration offered by Compleo V6 in Database Mode. One named Compleo Supervisor license is required only. A second Compleo Supervisor instance points to the same configuration on a shared database. However to be effective, a manual start of Compleo Supervisor backup is required. This requires changing the machine name in the licensing manager system to name to initiate a backup.
In this mode, documents in progress are not backed up when an interruption occurs. All tokens and processes in progress are lost and are therefore not passed to the backup system.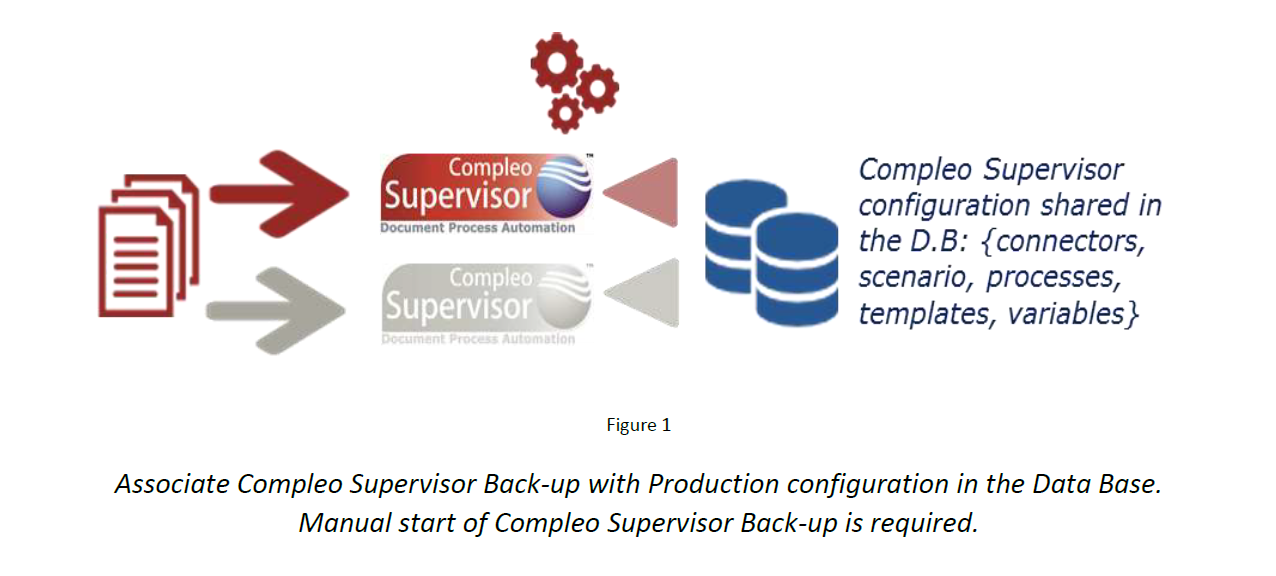 Are automatic back up and high availability the same?
In this example, a second Compleo Supervisor instance shares a concurrent license with the first instance. Therefore, as soon as the first instance fails, the second is granted the right to work by the licensing system. The Compleo Supervisor backup automatically starts, evaluating documents and processes not completed. This configuration offers high availability, since there is no disruption in the document management automated processing. The backup service watches out the production service, and is aware of works in progress. Depending on their status during failure, some documents could be processed twice.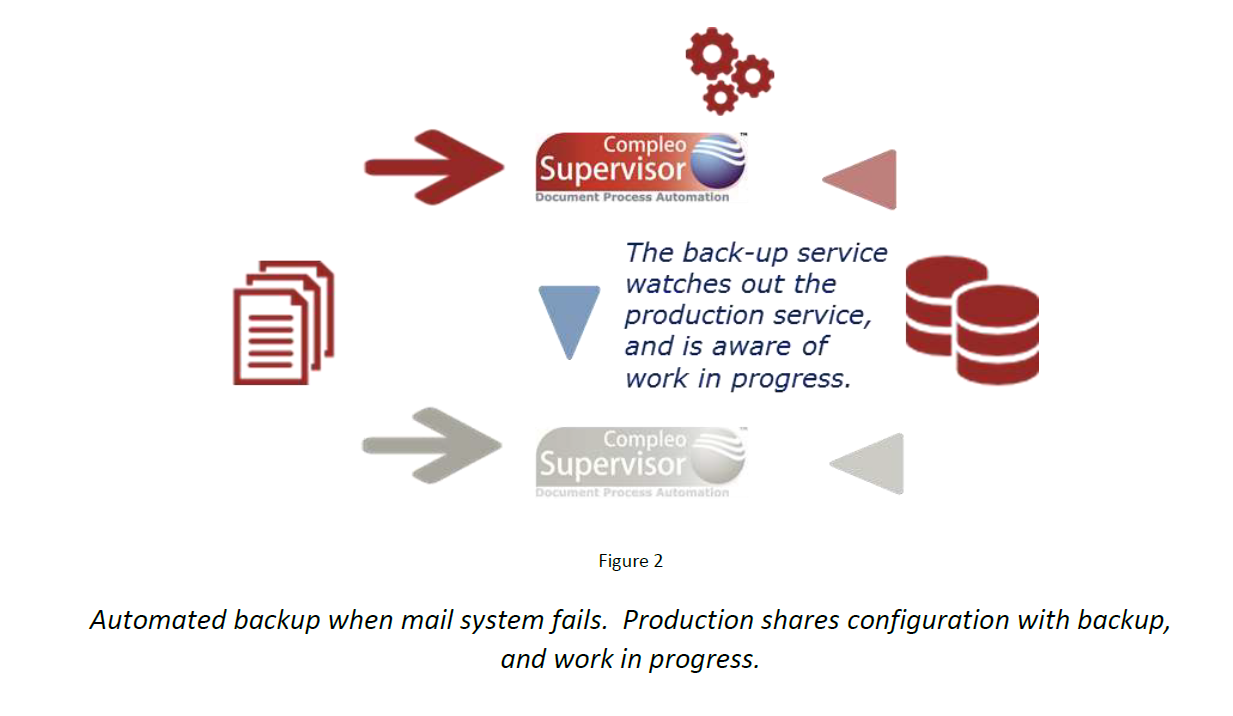 Load balancing serves another purpose.
This mode requires two named Compleo Supervisor licenses. Two distinct Compleo installations refer to the same configuration in the database. Either of the available Compleo Supervisor instances can process documents. Load balancing is not the same as an automatic backup: documents in progress will not be processed by the second instance if the first one fails. The same production configuration in the database is assigned to both Supervisor instances.
The ability to define specific resource per Compleo Supervisor is a plus. Using defined variables in the Resource Center, some folders or printers become specific to a Compleo Supervisor. If one system is busy handling a large document requesting a lot of processing, then smaller documents need not wait: they are processed by the second system as soon as released.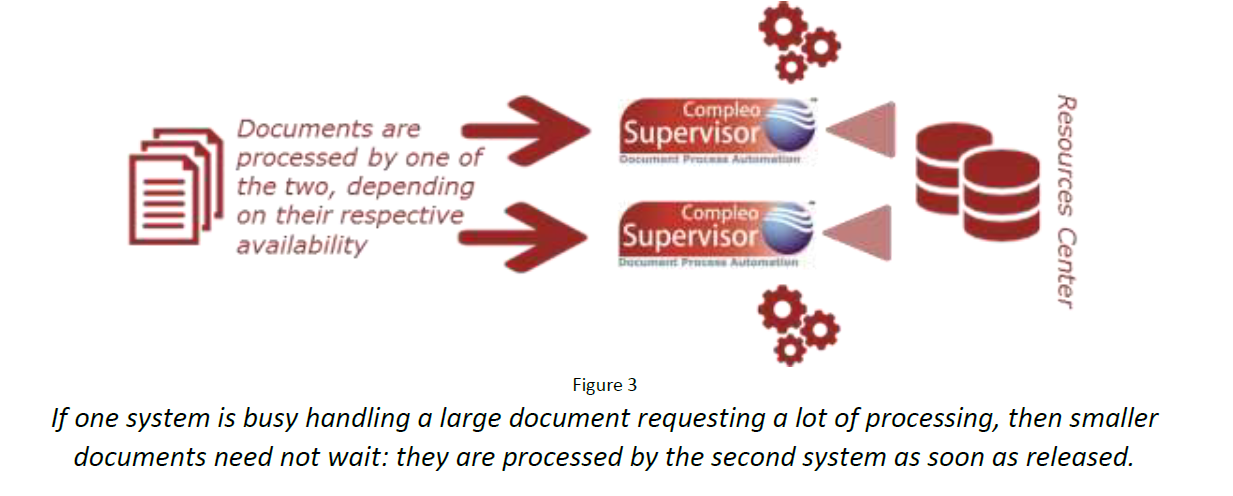 Which IT systems are well suited for document load balancing?
Smooth processing of two machines doing the same job depends on the ability to reserve a document to process.
This mode is well suited to operate with IBM Power I. Documents are distributed by the IBM Power I through a data queue. Multiple external accesses to the same IBM I Output Queue are controlled.
Implementation on other systems is not recommended for following reasons:
When accessing documents in a folder, the archive bit is checked prior selecting a document to process. In a load-balancing configuration, simultaneous access to archive bit may generate a duplicate process in some situations.
When monitoring an inbox, since there is no tag on email, both systems will process the same document.
In the following configurations, load balancing is prevented by system design:
Web Services or XPS printers cannot be defined on multiple Supervisor instances: their configuration make their connection exclusive.
SAP BC-XOM or SAP RFC connections require registration first. If multiple Compleo Supervisor instances are registered, the last one registered prevails.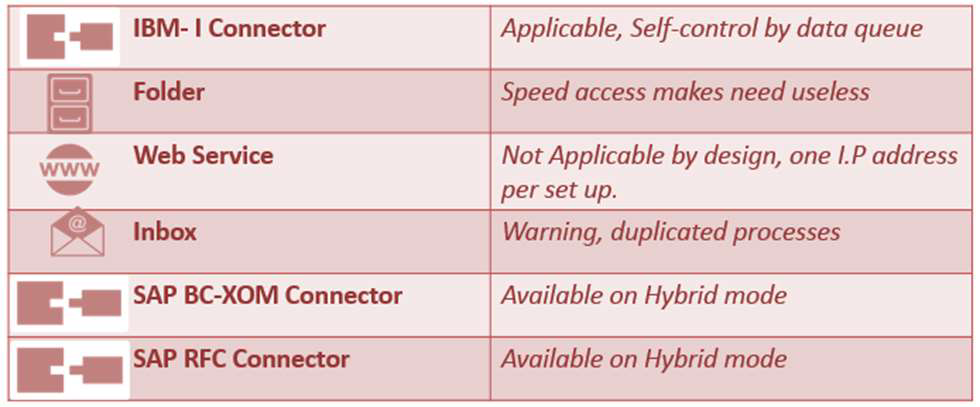 Hybrid mode combines automatic back up and load balancing
In this configuration, each device or connector is defined for automatic back up, load balancing or for exclusive processing. Here are some example of architectures using multiple instances of Compleo Supervisor:
For SAP BC-XOM or SAP RFC connectors, we suggest implementing SAP device groups to combine load balancing and automatic backup. This hybrid mode offers the performance of the load balancing along with high availability.
Process queues scenario or Inbox connector must be in back-up mode only.
When using the IBM connector, some output queues may be exclusive for printing needs; others may be in load balancing for higher performance and other in backup mode to be compliant with process queues requirements. This strategy can be applied to folders as well.
How multi-sites backup is handled by Hybrid mode
In this configuration, one site can back up all remote sites, each site having its own devices.
In a multi-site architecture, different types of backup can be implemented. One or multiple automatic backups can be specified for each device or connector. This way, various backup strategies can be implemented. A common strategy is appointing one site as backup of all others.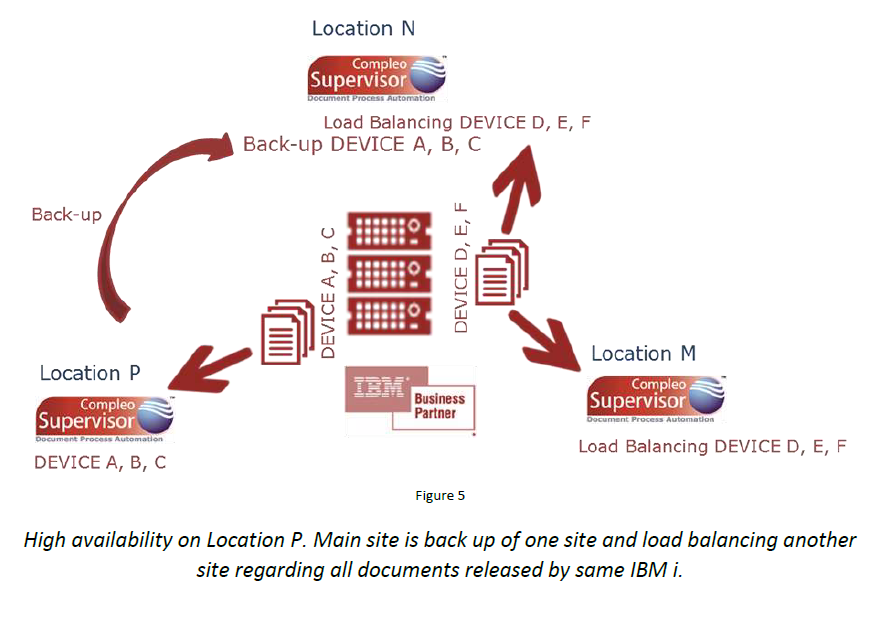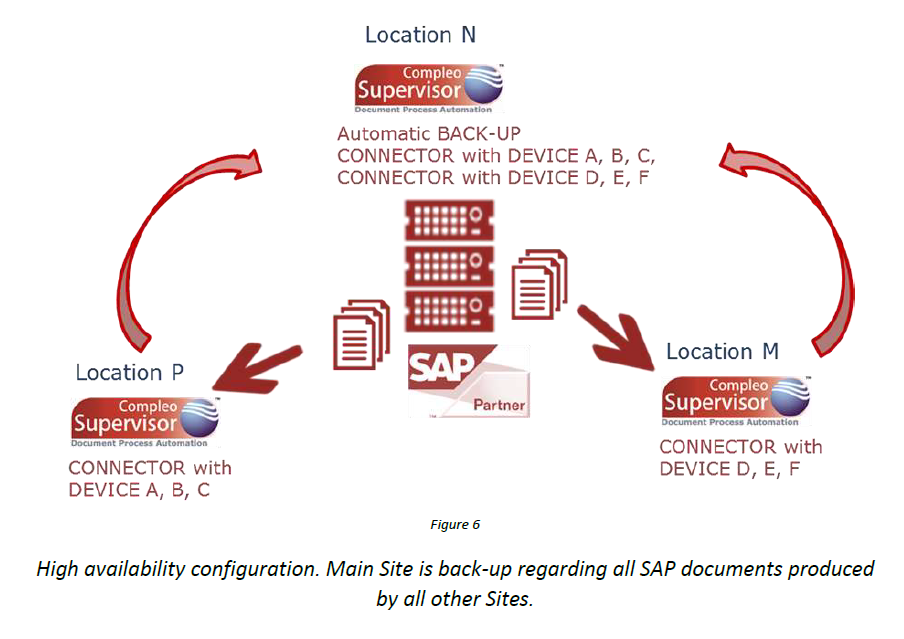 Conclusion
Back-up or load balancing configurations can be tailored to the needs of each Enterprise. The ability to handle multiple environments and multiple configurations provides Compleo Supervisor V6 the ability to adapt to most if not all requirements. Whether On-premises or in the Cloud, such installations can be monitored from a single administration service.
About the Author
Michel Gaertner – Director, Software Technologies
Michel Gaertner is the Director of Symtrax Corporation's Software Technologies Department and has over 15 years' experience in software development. In recent years, Michel's primary focus has been the enhancement of electronic document distribution solutions for various system platforms including SAP, JDE, IBM iSeries and Microsoft Windows.
His responsibilities keep him in close touch with both software developers and end users, providing him with a comprehensive understanding of both business needs and development technologies.
About Symtrax
Symtrax is a worldwide software company specialized in Data and Document Management solutions. Our business intelligence software provides companies with the ability to analyze business data efficiently. Our document management software values & delivers business documents electronically.