Introduction
Most ERP, CRM, or BPM generate millions of business documents that must be stored somewhere.
Cloud storage has evolved beyond a mere digital filing cabinet hosting documents for legal reasons or back office convenience. Identifying and implementing an effective archival strategy is integral to advanced business practices that bring significant gains to the modern Enterprise.
If you are considering sharing vendor access to digitally signed purchase orders, the ability to track read/receipt of invoices, or accessing packing-lists from mobile devices, you will need an advanced business document repository -- either based On-Premises or in the Cloud.
All of these processes rely on the ability to secure external access to business documents. Digital Transformation, Mobile and Cloud technologies offer significant opportunities for improvement regarding business documents distribution or consultation.
When facing challenges handling large volumes of documents with limited internal IT resources, today's Enterprise must rely on a scalable document storage architecture seamlessly connected to its core business applications.
In this white paper, we will discuss best practices for implementing a PaaS Cloud Storage model for business documents, regardless of the provider you select.
Capturing Pertinent Metadata for Pinpoint Searches
Whatever Cloud providers you use (e.g., Azure or Amazon), document retrieval can be cumbersome if the search returns more documents than you are expecting. This can result from full text indexing or inappropriate metadata to filter the search. Business documents are easy to classify per category, with relevant references such as customer ID, invoice number or date, etc. For better results, develop a set of metadata to pass to the Cloud application along with the PDF document. Metadata should be defined by reading the document content and selecting the right words, or retrieved from an external resource (such as an email address of the contact point).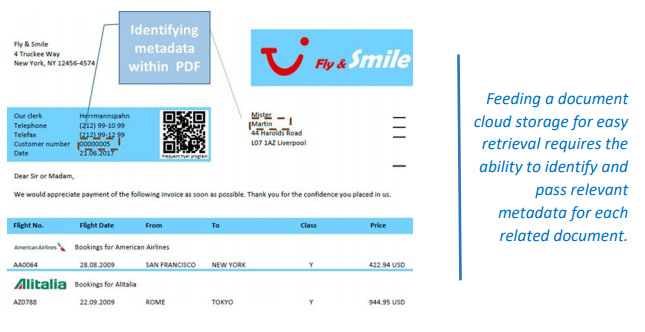 Resilient Handoffs without Document Loss from Process Disruption
Any process that sends documents from one system to another -- whether on premises or in the Cloud -- requires synchronization and acknowledgments. A robust process should be able to recover from a network failure or processing delays, thus ensuring each document is saved and easily retrievable. Since creating business in an ongoing process, the archiving document processing must operate smoothly without human intervention.

Accelerate Optimized Indexing for Large Volumes of Documents
As an example, the maximum file size of SQL Server 2012 is 16 terabytes. Assuming an average PDF document size of 500KB, the capacity would be 320 million documents for just a single database. Further, the number of documents is not the major factor in estimating hosting capabilities. Building indexes and searching through indexes is a time consuming process. This is why full text indexing may give
some apparent comfort, but can overwhelm the storage system with huge index tables. Indexing documents with pertinent but limited metadata, or full text indexing confined to a text zone within the document (such as first page or specific paragraph) will ease performance and speed-up research.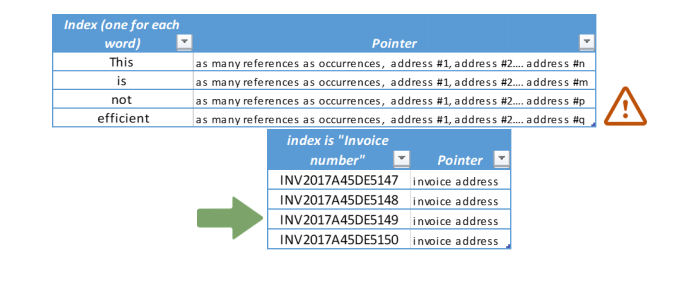 Reduce Document Redundancy with Targeted GUID Links
Once a business document is saved to a PaaS Cloud platform, should the Enterprise keep a local copy? Would your ERP Application be able to generate it again if needed? If the document is to be distributed is there a copy available somewhere? Is the document meant to be accessed internally only?
All these variables can be addressed by associating a unique URL (GUID) referencing the saved document that can be returned to the Enterprise Application. In this case, each business document is accessed by clicking the GUID. This can address customerfacing use-cases (such as invoices, sales orders or POs) as well as internal requirements, allowing end users may locate the relevant document easily.
Conclusion
Business Document storage was originally designed as an on-premises application. Given recent technological advances, including but not limited to hybrid Cloud solutions, tremendous efficiencies are now possible. Enterprises that are hosting their Systems and Applications in the Cloud -- whether in IaaS or PaaS mode, or accessing in SaaS mode -- are increasingly hosting their Business Documentsin a separated solution for flexibility and platform independence. Business Documents are no longer held hostage by the Application platform that created them, allowing for rapid changes as the business requires it.
In addition of multiple requirements to select a provider, such as broadband, storage volume, concurrent accesses, number of documents, service performance and availability, all previous considerations will directly affect the success of your project and are integral to a successful implementation of a PaaS Cloud Storage.
Want to know more about how to implement a PaaS Cloud Storage for your business documents? Click here to contact us for a one-on-one demo.
About the Author
Kirk Fackre – Director, Enterprise Solutions
Throughout much of his career, Mr. Fackre has concentrated on how technology helps organizations become more productive by capturing, organizing and sharing critical knowledge, information and expertise.
Prior to joining Symtrax, Mr. Fackre cofounded Airtime, a Mobile SaaS Solution provider and ResearchAgent Corporation where he pioneered a product line used to manage web content.
Upon graduating from the University of Massachusetts at Amherst, Mr. Fackre joined Equitrac Corporation, where he enjoyed a long and successful career in a variety of progressively responsible leadership and sales management positions.
About Symtrax
Symtrax is a worldwide software company specialized in Data and Document Management solutions. Our business intelligence software provides companies with the ability to analyze business data efficiently. Our document management software values & delivers business documents electronically.