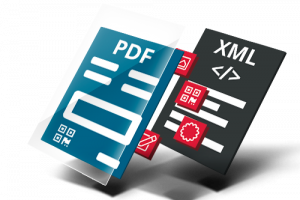 Transform spreadsheets for fast invoicing
Electronic invoicing can be a daunting proposition. To make things simple, you need an automated approach that eliminates tedious work and gives you high quality invoices ready for distribution. Because of this, you can save time and distribute custom documents that match your requirements. Compleo gives you the tools you need to create your invoices, your way.
Compleo grants you customized electronic invoicing
Automate data processing
Managing complex data by hand takes time. However, using automation, Compleo lets you instantly translate XML contents into a finished invoice. In addition, you can ensure each document will match your company's preferences.
Tailor our off-the-shelf solution
Need to change things up? Compleo makes electronic invoicing flexible, allowing you to adjust settings easily and accommodate more recipients. Since the majority of the process is automated, you can adapt to new business challenges and maintain the same reliable workflow.
Get reader-friendly results
You need documents that are easy to understand. With Compleo, you can create appealing PDFs, manage access, and keep the entire process transparent. Give your users a clean, well-designed document without the strain of manual customization.
Compleo converts and distributes certified XML into a readable PDF that can include additional consumer information. Additionally, the XML and its associated PDF are viewable in a secure web repository.
The entire solution is integrated within your existing ERP. The electronic invoicing process uses API to return completed documents and sends emails to designated addresses at each step.
Deliver improved invoices with Compleo
Organize your document workflow.
Electronic invoicing can eliminate a lot of unnecessary steps in the sales process. Using Compleo simplifies everyday functions while keeping all data accurate. Furthermore, you can trace every action for accountability purposes and always stay informed as to each invoice's status.
Ensure delivery.
Confirm that each invoice has been read and keep sales processes on schedule. Compleo keeps invoice emails out of the spam filter by sending links to each document instead of attachments. As a result, your recipients are more likely to see each message the first time. If you do need to resend, Compleo makes refreshing and monitoring simple without the need to reformat. Once the invoice is complete, you'll receive instant verification and can move on to the next phase.
Maintain consistency.
It's a lot easier to manage invoices when they match each other. Add tracking numbers, logos, and other elements to easily identify each PDF. Plus, you can apply the same process to all invoices, letting you avoid communication errors and assign every document the same situation.
View active or archived documents with ease.
Whether an invoice is current or already completed, your administrators can find important information in seconds with Compleo. Our software platform gives you real-time data about document status and view history. What's more, you get the same detail from archived documents as well, no matter which repository you choose.
Create, distribute, and complete invoices using Compleo
Here's how Compleo transforms your electronic invoicing system. After setting your parameters, our platform reads source XML and generates a full invoice containing all desired fields. This can also apply to multiple invoices at once, simplifying several workloads.
Along with invoice content, you can also determine where to store the PDF and who can access it. When it's ready, Compleo will automatically send an email to all relevant parties with a secure link to the invoice. If further revisions need to be made, you can republish and resend a new link while still monitoring all access data. Once completed, the invoice is designated for storage and can be easily searched later.
Create high-quality, accurate invoices and ensure completion. Learn more in your free consultation today.