Electronic invoicing comes with many advantages for businesses, but implementing it can be a complicated process. In Costa Rica, companies need to understand a variety of factors, including government requirements, digital invoice storage, and what makes an ideal provider, to get the largest benefit from e-invoicing. Explore these and more related issues for Costa Rican business entities in this ebook.
Section 1 - Why establish electronic invoicing?
As a government institution, for the Costa Rican Ministry of Finance, establishing a system for electronic invoicing was only a matter of time. Mexico, Brazil, Argentina, among other countries, have already established their respective methods to emit and receive fiscal documents. However, what benefits has such system brought them? In general, the electronic invoice process creates the standardization of the most important process of any company, which is to generate income. The State can now have almost instantly detailed sales data. Implementing rules of billing and payment improves the respective collection of taxes and an advance in strategies of control improving the determination of business income and prevent tax evasion.
For the business owner, you have a similar benefit. The entrepreneur must now analyze her current billing process. This allows her to correct a process that may be lacking or remove it altogether if the legislation does not require it. In addition, now, without the need to print, except in the event of an emergency, like in the case of internet failure, paper incurred costs when having to order pre-printed forms and space to store these.
Section 2 – Important requirements
Registration: How to register for E-invoicing and receive your digital signature
You can read the Instructions on how to generate the cryptographic key on the ATV site in this pdf.
Opting for the DGT or Central bank signature?
For practical reasons, the use of the cryptographic key provided by the DGT is the preferred process for certifying invoices instead of the signature of the Central bank, since the latter requires a special device, according to the College of Public Accountants of Costa Rica. The cryptographic signature is a file that is downloaded to your PC and you only need to do so a single time. You can view the seminar that took part on January 23, 2018 where the recommendation the College of Accountants made the recommendation here.
Creating an official electronic document--the XML file
The XML file is the only official document/file accepted by the DGT for tax matters. Important
elements include:
Key: Corresponds to the voucher key. It's a 50-character field.
NumeroConsecutivo: Consecutive numbering sequence
FechaEmision: creation date
CondicionVenta: Terms of Sale which include, 01 Cash, 02 Credit, 03 consignment, 04 Layaway,
05 Leasing with option of purchase, 06 leasing in financial function, 99 others.
LineaDetalle: Line items.
Languages: The invoices issued by the contributor or declarant may be written in a language
other than Spanish.
Complete XML structures can be found here.
Consequences for not establishing an adequate system
See Violations and penalties document found directly on the Ministry of Finance site.
Section 3 - The downside of free E-invoicing systems
There are free of charge systems available, including MiFactura offered by the government. It was created for entities that definitely cannot afford the prices of providers offering packages of 50 invoices or more per month. MiFactura counts with all of the requirements to generate an electronic invoice by filling out the corresponding form online. The problem with this is the need to include all the details that define the consumer whenever the user enters the site.
Obviously if they bill only once or twice a month it is not a big problem to adopt such a system. Other free sites work the same way and are only expected to comply with a minimum number of requirements. For example, they are only required to save electronic invoices (XML format) and graphic representation (PDF) up to a month. The user who adopts such a system must keep a copy of all the files in a safe and accessible place. Unfortunately, no organization has been assigned for monitoring the practices of these providers.
Section 4 - Providers with E-invoicing packages
For businesses with a robust portfolio of clients that can emit an average of 10 thousand invoices per year, they can choose a provider who provides an online e-invoicing system with a limit of about 10 thousand invoices a year. A package of this magnitude can cost you between USD $500 - $600 depending on the number of users who need access. These suppliers are responsible for sending their electronic invoices to the Dirección General de Tributación (DGT) and receive the document certified along with its status—accepted or rejected. In the case that the document is rejected, the system allows them to generate it again, applying a credit or debit note if the problem was due to operator error because they included an incorrect value in the description of a product or provided the wrong unit price.
Having a robust portfolio means that there is an endless number of customers with whom you do repeat business. Every single one of them must be registered in this provider's system. It will require significant staff hours to cope with this task in order to adopt this system in a satisfactory manner. However, there are certain suppliers that already offer an alternative to this tedious task that certainly carries additional cost.
They have implemented a series of WebServices and APIs that connect your ERP with their system which in turn sends proof to Tributacion for certification and proceeds through the appropriate channels. However, a drawback for such a system is faced when it comes time to search for invoices or generating reports since you will need to connect to the provider's website and not your own ERP.
Section 5 - Storage for electronic invoices
Pursuant to article 109 of the tax code it is the responsibility of all required participants to store all electronic documents generated and received, including those associated. The period is at least five years, but in some cases it may be up to 10 years if the tax administration determines that the person is not registered or there are fraudulent activities registered against them, etc.
Beyond the term of storage time, the storage system must ensure the integrity of these documents. According to DGT "system must guarantee the inalterability, privacy, readability, accessibility, preservation, confidentiality, authenticity, integrity and subsequent consultation of the information of the XML file." "Without prejudice to the provisions of article 7 of the law on income tax, and articles 54 and 56 of its rules of procedure." It is important to note that, in the case of an audit, Tributacion will require access to your storage system with the ability to search using certain fields, so it must be a practical one.
Section 6 - Not 100% satisfied with your e-Invoicing provider?
The concept of e-invoicing is relatively new in Costa Rica which in some cases can cause confusion and not immediately understanding the taxation requirements. Being a requirement of the State along with an every approaching deadline for implementation tends to cause the making of a premature decision about which provider can best meet the requirements of the State in combination with the available resources of the company. Only
by having the system implemented, will you truly find if it actually fits these requirements and learn how it affected the internal culture.
Internally, how were the following points affected by the change in your traditional form of invoicing?
Process for internal users that generate invoices
Ability to query and view a specific or range of invoices
Assuming that you are not completely satisfied with its implementation, but acknowledge that it is an implementation that can keep you afloat for a while, means you've taken a step in the right direction. Perhaps, in your case, you chose a provider but only as a temporarily mean.
Having established a system that achieves the objective of complying with the new regulation, you can afford to seek an alternate solution that also complies with all internal expectations. Fortunately, change a change in e-invoicing platforms is a practice accepted by the DGT provided you continue with the numbering sequence in your billing system. Take your time, investigate and try the tools available alongside your colleagues who have been directly affected by this change.
Section 7 - What would be the ideal system to comply with your company requirements and those of the DGT?
Very early in this document we established that a business with a low number of invoices would be best served with a free system. However, for medium to large sized enterprise that needs to invoice more 10 thousand times a year, they should implement something significantly more flexible. Listed below are the points we consider an ideal system should cover:
Easily configurable implementation that sits as a layer over current billing system. It needs to smoothly integrate with your current ERP/CRM invoicing process.
Creation and automatic storage of XML and associated files within the company network. There is no relying on a third party for file access.
Unlimited PDF graphic design. It is important to be able to change the look of the PDF, including the watermark, logo, and be able include terms and conditions, for example.
Generation of unlimited invoices, credit and debit memos.
A user-friendly interface that allows you to communicate directly with the DGT for sending and receiving XML.
Interface that allows you to review the status of your invoices and the reason for rejection if it was declined by Tributacion and at the same time send this information back to your ERP or CRM.
User-friendly electronic file storage that allows you to run searches using fields such as invoice number, creation date, total, etc., when requested to do so by the government or required for internal purposes.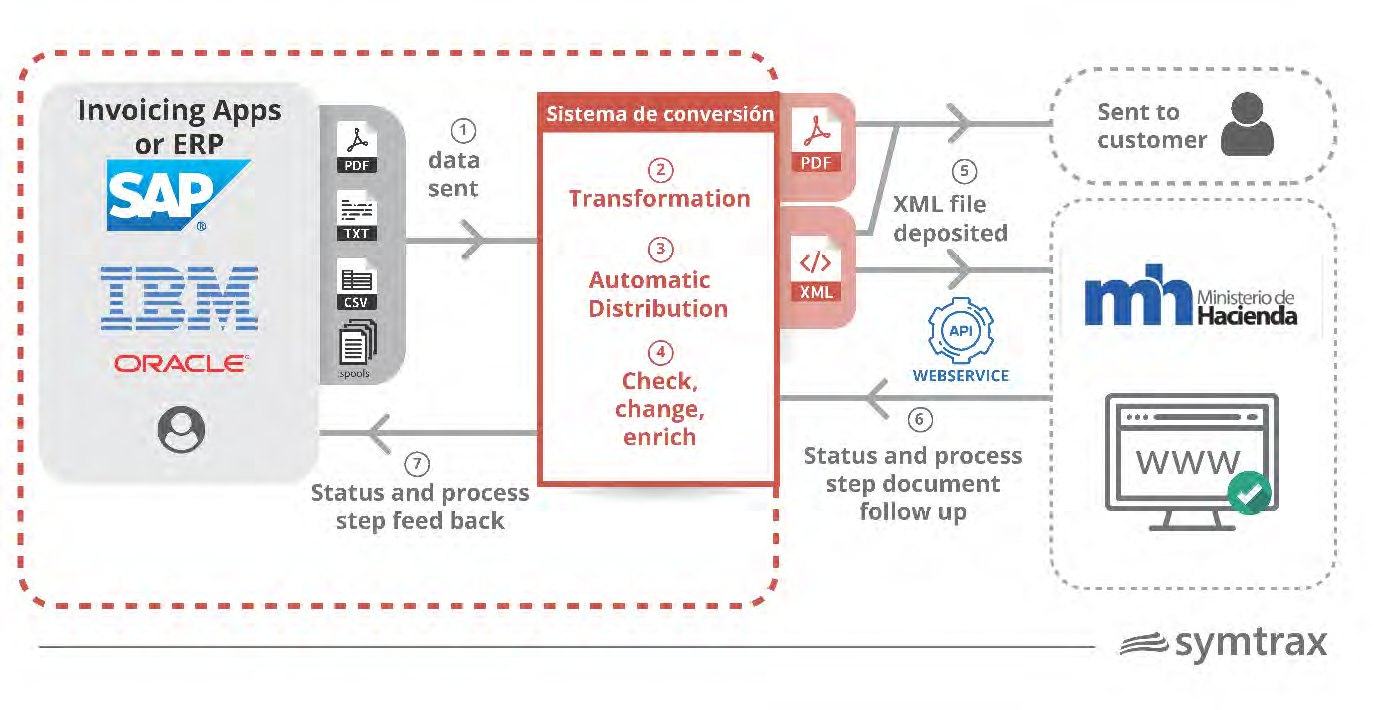 Who is Symtrax?
With over 25 years in the market, Symtrax has vast experience establishing E-invoicing systems in several countries. We implement our solutions implemented at the reporting level in the client's ERP or CRM, facilitating an improved version of their reports along while updating distribution methods. We help implement inter-system communication quickly with advanced technology, including FTP, WebService, API, and other protocols. This allows us to integrate an E-invoicing system the simple mapping of fields over the reports and the querying of databases, in case that certain information is not readily available. The final output arrives as an XML file and is sent through the corresponding channels automatically.
About the author
Fernando Jimenez, former technical consultant for Symtrax Corporation now turned Technical Manager has headed Output Management projects since the early 2000s all across North and
South America. Along with his degree in Computer Information Systems, he possesses the knowledge derived from direct interaction with customers that has in turn given him the experience necessary to design and implement external complimentary electronic document systems that are efficient and, more importantly, affordable.