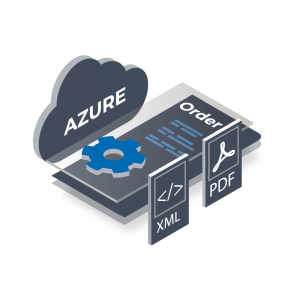 Simplify EDI adoption with modern API dialog and SaaS convenience
Customer orders can come in multiple formats. In addition, they can be structured or non-structured and use various communication protocols. Unfortunately, many companies choose to either enter data manually, which can lead to errors or delays, or implement a traditional Electronic Data Interchange (EDI), an overly rigid option that requires expertise and constrains trading partners.
What's best way to improve your inbound order processing? Let's consider a straightforward network exchange and a comprehensive document content management system combined in the same solution. Together, these capabilities greatly improve the incoming orders process.
Based on familiar technologies (such as HTTPS protocols, XML, and PDF/A formats) and empowered by automated digital document transformation, this new flexible EDI is changing traditional business exchange systems. Suppliers can utilize such solutions to receive orders from customers. What's more, they can then easily integrate them into their order management or ERP applications.
Compleo Hybrid utilizes this innovative architecture with its SaaS web application Compleo GateWay. This module lets you secure your integration process and receive business documents without hassle.
This flexible EDI enhances order management and enables both suppliers and customers to achieve their digital transformation goals.
Automate Your Inbound Order Processing
Expand business perspectives
As a supplier, you offer multiple ways to receive orders. You can be less restrictive regarding document formats or communication protocols. Whether the customer releases XML or PDF documents, it's easy to interchange with suppliers using the secured https protocol. This way, trading partners can set up the IT process for ordering and acknowledgement more quickly. In addition, you can offer your customer a more convenient way to handle order submissions and track communications. This makes it easier to add new customers as well.
Streamline sales order processes
Compleo Gateway lets you coordinate tasks securely and simply. Here, it automates inbound order processing and effortlessly manages document exchanges. Compleo then triggers the order integration process, simplifying your incoming order workflow.
As soon as Compleo is notified, it handles the incoming orders automatically, reducing processing time and keeping customers in the loop.
Furthermore, you can extract customer order details embedded within the document itself and utilize them as variables for further processing. This secures the exchange process and automatically triggers integration.
Compleo manages sender detail verification when handling EDI-specific document formats (such as X12 or EDIFACT). Additionally, it can transform unstructured (TXT or PDF) or structured (XML) documents and incorporate them into efficient workflows.
Simplifying EDI helps address customer needs quickly and easily, all without disturbing your current ERP or application.
Enhance supplier IT security
Compleo Gateway identifies inbound orders before they reach the supplier. Next, the supplier is automatically notified when a tier document is available for review.
In addition, the supplier chooses which customers are allowed to interact with them and submit documents. Suppliers can also identify the customer's individual users and grant viewing permissions as needed.
What's more, the Compleo web application is hosted on the MS Azure cloud, and is configured for high availability and auto-recovery to protect against network failure. This ensures high-quality performance.
On top of that, Compleo saves broadband and CPU resources by using message queue services. Eliminate the need to open ports for receiving files and help improve your company's IT security.
Make technology adoption easier for customers
Customers don't need to change their process for submitting sales orders. Instead, Compleo can handle their preferred file format, such as PDF, TXT, XML, or X12.  The exchange protocol integrates easily with each customer's architecture. They can use Web API calls, Windows folders, and even internet browsers to connect based on their preference.
Finally, customers get real-time feedback on each order's transfer status, and can easily see when a previously-requested document is available.
Receive orders easily with a flexible EDI architecture
Compleo GateWay reduces the time and effort needed to complete EDI integrations.

3 ways to exchange orders via Compleo Gateway:
Web APIs
Web Interface
Windows Client

Compleo Gateway ( Client or Web)
lists order status and gives access to final processed document if required.

The supplier is notified when each document is available.
The Cloud SaaS web application calls the Compleo Supervisor via gateway connector.
Compleo has multiple run modes to securely process inbound documents (call web service, trigger a workflow, etc.)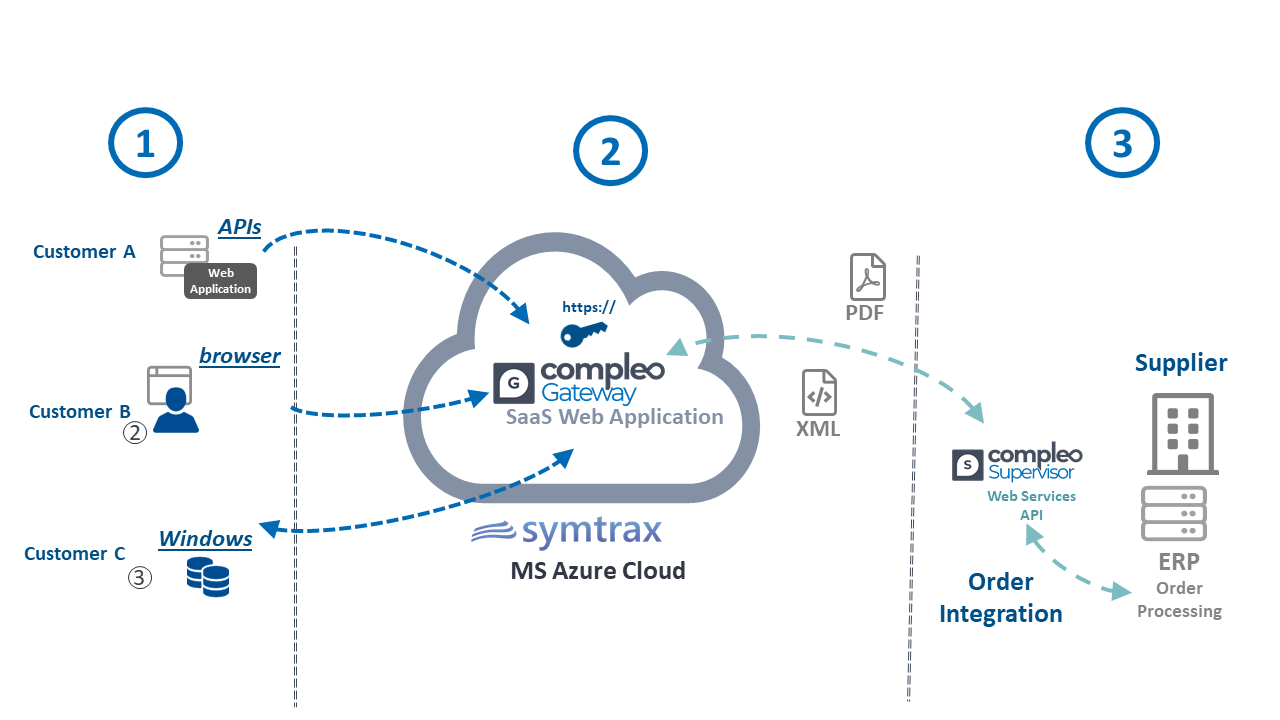 A secured EDI method for inbound order processing
Handle various workflow needs with a fully-functional solution
Compleo can customize inbound order processing orders in multiple ways. After reading each order's envelope and content, it can automatically trigger the appropriate integrations workflow. Compleo's Robotic Process Automation (RPA) has multiple drivers and can easily connect with ERPs, such as SAP, through RFC using BAPIs.
You can also connect with various cloud platforms, including SAP Document Center or Amazon Web Services (AWS), Web Services, and API calls, and manage SMTPs, digital signature workflows, and other activities simultaneously. For sales order management, Compleo can handle order acknowledgements and return corresponding forms as well.
Automatic document format conversion
Converting an incoming order into a specific file format helps the integration process. For example, transforming a structured XML document into a PDF (or even just adjusting it into another XML) can greatly benefit your business users. Specifically, the capability to build a PDF/A on the fly makes it easy to understand and file each document.
Straightforward ERP integration for inbound orders
Compleo has multiple drivers that allow it to connect RPA to a supplier's back-office. When web services have direct access to the ERP, they can handle incoming sales order processing integration.
Compleo RPA has the ability to read and analyze both the order envelope and its contents. It can identify and define variables, such as PO numbers, customer data, and item numbers, to ease order integration with ERP.
Customers notified in real-time
Once the supplier receives the proper sales order, each customer in turn receives a notification. A customer's business users may view the acknowledgment and processing status of their order for full transparency. They can also view and download any returned documents that need further action.
While the customer may receive confirmations directly, they can also connect to the SaaS portal. This allows them to sort and read each order's content and status, based on their authorization.
Agile EDI for easy inbound order processing
A flexible EDI handles a wide variety of structured or non-structured documents. This offers a more convenient method than direct point-to-point communication or a traditional value-added network (VAN).
Utilize flexible EDI through SaaS to control and process orders instantly.