Introduction
Digital transformation introduces multiple enhancements to improve existing SAP processes. This white paper presents how an SAP user may apply an individual digital signature on business documents before their distribution. Instead of background processing, SAP Users can keep interactive control on the process, viewing, approving or signing the document, or a series of documents. Workflow and traceability connect the final PDF into SAP, as an attachment or through a GUID.
When Document Security Can Become a Requirement
Security of documents being stored has grown in importance with the digitization of documents. It includes certified signature, secured distribution and legal compliance of these documents. With the updates in the IT system across geographies and a push towards automation, it has become a necessity to be able to secure your documents before being shared and/or distributed.
Canadian, American legislation or European Union directives have ruled the Digital Signatures Act, specifying document transmission and validation to ease electronic commerce and taxes control. Some include a valid signature authenticating the signer and his deliberate action to certify.
In APAC or Latin American countries, digitization has become the corner stone for a push towards good governance with implementations of unified taxation GST, Goods and Services Taxes, forcing corporations towards digital document management and integrated systems. In this scenario, it is mandatory to authenticate the uploaded documents on the central government systems by Digital Signatures using SMART Cards or Digital Tokens issued by the respective authorities.
All over the world, export & import regulations for sensitive goods require appropriated certificates and descriptive forms completed and approved by duly authorized persons. For Corporation, traceability and accountability of the signed documents is essential. Since the volume of documents increases as the business grows, audit compliances become more complex.
How Much Flexibility can be Combined with Security?
Implementing a system to get the right document signed by the right authority is a challenge in the ever-changing world where people come and go, but every day business needs to continue. Being able to reconfigure systems pro-actively to make sure business is not impacted is the need of the hour.
Defining a release strategy with a complex business approval process, in SAP, is time consuming and quite complex. Using an External Document Management solution interacting with document attributes and SAP User ID & Location, provides a flexible signature workflow along with security and authentication rules.
Changes in a business process described in a user comprehensible workflow are easier to implement by a functional person. Compleo Suite, SAP Certified Software, traces SAP document properties and prompts corresponding SAP Users with digital signature requests. In addition, Compleo RFC BAPI interaction helps to request more details for a secured routing and governance of the document.
How to Identify and Locate the Signer
What happens if an SAP User has multiple sessions, which one will be elected to
request signature?
What happens if multiple documents are released by a background job? Which
SAP User is entitled to sign which document?
What if the signer has an SAP Indirect License only, how will the signed PDF be
returned securely back to SAP Archive Link or DMS?
What will happen if the SAP Signer wants to approve bulk documents all at
once?
How do we know the SAP Signer addressed as having a valid signature?
The document traceability involves multiple metadata referring to SAP systems, Spool Request, Output Request, Spool attributes, Document Content, WorkStation address, PC's name, SAP User ID or Job ID, etc… all these parameters help to figure out who and where the signer is. You can enhance workflows with the ability to read signature details embedded in the PDF once digitally signed.
Individual Process or Repetitive Process, Both Options Should be Available
SAP Users are liable for the documents being distributed using their signatures. They want to be a part of the process interactively or may prefer to allow automation but with some controls. Using Compleo Remote Agent, Users have the possibility to make that decision themselves to automate the process or to check each document individually before applying signature on. This robust and fully compliant process leaves no ambiguity about the authenticity of the signatures.
This is a simple process for the SAP User where they are able to validate documents. Validation creates confidence and adds credibility to the overall business process as well as maintaining compliance with current, standing laws. A unique identifier that ensures the process is reliable identifies each SAP User.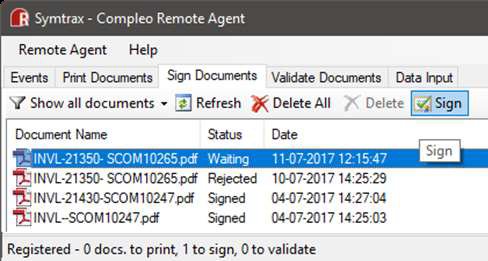 SAP User interface pop-up list of documents available for approval and signature. Once document appears in the list, click on Sign to have a preview. Once you are satisfied simply click the Sign Button and the process from the End User point of view is completed.

e.g., Invoices generated will have a digital signature with the details about the signer and additional information that you can configure per your specific business requirements.
Conclusion
This process, based on a SAP Certified Solution, is fully compliant with all legal and business needs. One of the principal strengths of a digital signature is its ability to precisely verify and prove the signer's identity. Documents can then be distributed as desired; whether through email, Print, SAP DMS, MS SharePoint, Web Service, etc. Digitally signing documents can help your business sustain greater accountability, data integrity and authenticity.
Please take a look at our 1.4 minute video by clicking here:

About the Author
Ankit Baid – Country Manager, APAC (Asia-Pacific-Australian Countries)
Ankit Baid has a Master in Engineering from the University of Southern California, Los Angeles. He is the Country Manager for APAC and has over 12 years of experience in the IT industry.
Ankit also actively interacts with the Sales and Customer Services Department for APAC region, which enables him to be in touch with the customers' needs and to develop deployment architectures for Symtrax solutions and recommend the best suited architecture per the customer's needs. He has successfully deployed Symtrax solutions from medium-sized organizations as well as fortune 500 companies.
About Symtrax
Symtrax is a worldwide software company specialized in Data and Document Management solutions. Our business intelligence software provides companies with the ability to analyze business data efficiently. Our document management software values & delivers business documents electronically.