"Symtrax is a proximity advisory service and a pleasant and competent exchange. We are very satisfied with the support service. The technical consultants are dynamic and motivated to meet our needs."
Sydney Duchowsky
Operational engineer
Sydney DUCHOWSKY, operational engineer for local applications, has been working with Symtrax since the beginning of his career within the Aoste company.
He is particularly familiar with the Compleo solution used by the group since 2004 to automate the Order-to-Cash cycle.
Initial situation and challenge
Solution presented by Symtrax
Over time, Compleo has helped improve the company's document management enjoying the benefits of a fully automated invoicing process with invoices sent by email.
For Sydney Duchowski, the solution can be summed up with three words: "Efficiency, speed and sustainability".
Compleo allows Aoste to transfer a total of 120 000 documents/year with an estimated 100% reliability. Daily, the document management solution automates the layout (integration of OMR code, logo, etc.), creation, archiving and sending of invoices to France and abroad.
Scope of the project
Activity: Charcuterie since 1976
Number of employees: 1500 including 200 at St-Priest SA
Sales revenues: 2 196 100 000 €
IT architecture: SAP with AS400
Implemented solution: Using Compleo since 2004 for the O2C cycle.
Benefits
Automated e-invoicing process and invoice emails.
Improved general document processing.
Flexibility and ease of large-scale solution implementation.
Flexible printer and printing administration (multi-brand solution).
Document design with OMR codes or logos.
Easy means of adding non-existent information on SAP spools without any effort of development.
Result
To date, nearly 35 Aoste employees are using Compleo. The solution functions automatically and remains transparent to business users. However, Symtrax has multilingual consultants based in France if needed, an important advantage for the company.
In addition, the Aoste Group plans to extend the use of Compleo to its Belgian and Spanish headquarters. This is to not only help standardize and optimize costs, but also improve cooperation between employees. Compleo's durability and scalability makes all of this possible.
About the Aoste group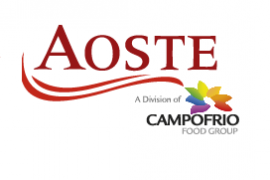 A leader in the French charcuterie market, the AOSTE Group offers its consumers products that combine taste, affordability, and high nutritional quality. Created in 1976, the group's two top priorities are innovation and quality.
Want to know how the Aoste group uses our solution?
Request a customized demo!