Compleo fits perfectly into the urbanization process of your information system, which was a decisive factor in the choice of the solution.
Initial situation and challenge
Initially, Haropa Port's main need was to manage printers in SAP. The company was looking for a solution to easily declare and use all network printers network. In addition, Haropa Port had a single driver dedicated to printers in SAP, which posed several implementation problems. The company also wanted to optimize its payslips to improve response times.
Ultimately, Haropa's objective was to fulfill the needs of both its business users and IT department.
The scope of the project included the following:
Activity: Seaport, management, and cargo container transit
Number of employees: 1200
Symtrax customer since: 2017
IT architecture: SAP – HR Access
Number of documents processed: +3000/month.
Solution presented by Symtrax
The first meeting between Haropa Port and Symtrax took place during the USF Convention (French-speaking SAP users) in 2012. After a series of exchanges and discussions, the company took steps to integrate the solution Compleo for a first use.
The choice of Compleo was easy, as it was compatible with SAP and could be used to meet broader needs than those initially mentioned. In addition, Compleo is SAP-certified and offers an SAP compliant BC-XOM connector. This connector provides essential functions for data collection and reporting, which ensure a suitable solution for the SAP environment.
Haropa Port chose Compleo for its design and ease of use. The decisive factors were Compleo's quick integration into the existing IT system and the multi-ERP compatibility. It also offers more control over document template maintenance and updates without needing to involve another service provider.
The choice of Compleo met the need for a complete, coherent, and cross-functional document process management solution that could also:
The solution manages payment slip validation and electronic signature. What's more, the entire workflow is integrated with Compleo to provide a simple and user-friendly interface outside SAP. Symtrax deployed the solution within three months. From the beginning of the production phase, the project was straightforward, and the tool made it possible to consider the necessary changes in a responsive way.
Compleo is increasingly part of Haropa's daily documents processes, especially for payment slips. The solution also facilitates payslip access and archiving while ensuring their security. This is thanks to access based on user rights and a follow-up interface in case of distribution problems.
For technical implementation, Haropa called upon Symtrax's services. In order to meet their business needs while respecting their time and technical constraints, Symtrax's customer engineers supported Haropa from the beginning of deployment.
The installation was perfectly carried out so that the solution would correspond to all needs and have the necessary reactivity at the imposed deadlines. In addition, a skills transfer was then carried out to ensure the IT department could manage and use Compleo daily on its own.
Benefits
Saved time in accounting process validation.
Greater autonomy and reactivity when implementing new automated document processes.
Existing documents can now meet regulatory constraints in a few hours instead of days.
Reduced the amount of manual printing.
Result
Since installing Compleo, the company has saved time by processing over 3,000 documents per month, or approximately 40,000 documents per year.
"Compleo is involved in future projects at the port because the solution is an integral part of the IT environment and its deployment."
Compleo offers several advantages: now, Haropa can control its document templates and update a document within a few hours without depending on a service provider.
About Haropa Port: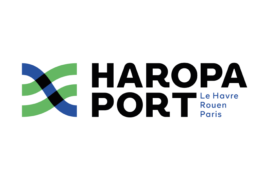 The ports of Le Havre, Rouen and Paris form the "major Seine Axis River and seaport authority". As the fifth largest north-European port, Haropa Port has connections to every continent based on an international maritime offering in the very first rank (calling at nearly 700 ports). It serves a vast hinterland centered in the Seine Valley and Paris region, which together constitute the largest consumption basin in France. Today in France, Haropa Port provides a transport and logistics system capable of offering global, low-carbon, end-to-end services. It generates an annual maritime and river activity of about 120 million tons, representing about 160,000 jobs.
Want to know how Haropa Port uses Compleo Hybrid ?
Request a live demo