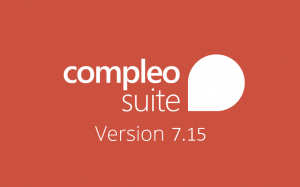 Global document management company Symtrax has announced Compleo Suite Version 7.15, the latest edition of their comprehensive solution. This collection of updates includes new features for Compleo Console, Compleo Supervisor, and Compleo for XML, addressing such functions as web services and electronic invoicing.
Compleo Supervisor users can now create web services as input devices within this module. This makes it easy to receive documents from various applications and web pages and process them with relevant scenarios. In addition, Supervisor also provides detailed analytics information regarding file activity. Clicking on the "Usage Report" button under the "Processes" tab displays Web API Connector,  Compleo WebSign, and Compleo IRP statistics on a weekly or monthly basis.
Companies using electronic invoicing systems in India can easily interact with local exchanges, thanks to the Compleo for XML update. Using the E-Invoicing driver, companies can submit data to India's GST portal. This can simplify business interactions and help with compliance.
Furthermore, Compleo Console also has features designed for invoices in India. A new India E-Invoicing tab and accompanying module allow for monitoring ongoing invoicing processes, as well as the ability to create and manage both users and groups. It's also possible to add restrictions for each user, determining who gets to view which document.
With these changes, Symtrax continues to expand what its software can do, allowing users to get more value from their document management processes.