Press Release – February 2023  
Symtrax, the international provider of digital data and document solutions, is fast gaining traction across the global business landscape. Compleo Hybrid, its end-to-end digital business platform solution, allows organizations worldwide to extend capabilities by engineering digital transformation to significantly enhance data and document interchange. Its proven quick responsiveness is enabling customers to respond quickly and efficiently to ever changing market conditions – most critically, government regulations and compliance for e-invoicing.
A case in point is Symtrax's current engagement with Schneider Electric – the global multinational company specializing in digital automation and energy management. Operating across the entire Middle East and North Africa (MENA) region, the company's immediate need three years ago was for its office in the Kingdom of Saudi Arabia (KSA), Schneider Electric Saudi Arabia CO. This office needed to translate an entire billing process from SAP ECC's standard English output into Arabic to comply with local government regulations.
"Our solution focuses on document management. It has nothing to do with translation, automatic or otherwise," says Pierre-Dominique Luciani, Symtrax Sales and Marketing Manager EMEA. "However, we proposed a database and interface that we specifically developed to allow them to meet this requirement, seamlessly and efficiently."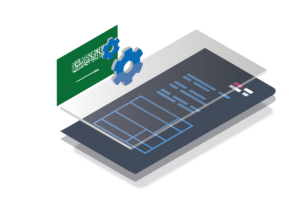 The beginning of 2022 saw KSA announce additional invoicing regulations with the introduction of 'Fatoorah' – an e-invoicing system under the Zakat, Tax and Customs Authority (ZATCA). Applicable to all taxable individuals and companies within Saudi Arabia, the goal of Fatoorah is to ease all paper-based billing into a fully electronic process. This can ensure fair trade and competition, protect consumers via a unified and streamlined process, and prevent illegal transactions.
Says Pierre-Dominique Luciani, Symtrax Sales and Marketing Manager EMEA, "We have a tried and tested digital business platform solution with over 3,000 enterprise installations worldwide. Modular in design, this enables us to package and implement a solution best-suited to each of our customer's specific requirements quickly and effectively." Extensive R&D facilities in several locations around the world further augment Symtrax's ability to understand and respond to various nuances specific to industries and demands.
The project is being executed over three phases.  
Phase One
The initial requirement, effective January 1st, 2022, demanded a multiple display format for all invoices in PDF and XML, with both versions needing to comply with certain layout and information rules. "We were able to assist, with our Compleo templates providing a final document that allows Schneider Electric Saudi Arabia CO to produce invoices that meet ZATCA requirements," says Luciani. "The PDF containing the required QR code, and an XML file embedded, resulting in a hybrid format." 
Phase Two
The second phase will see all debit and credit notes meeting these same requirements and is currently underway.
Phase Three
On January 1st, 2023, a government platform was launched, requiring all taxable businesses to create invoices electronically and then submit for verification.
In addition, this same date required all invoicing solutions to fulfil a host of new requirements. These include:
UUID (a mandatory unique 128-digit number, created by the e-invoicing solution provider and embedded in the XML file for every invoice)
Cryptographic stamp (a technical digital signature that verifies the document's authenticity and proof that the invoice is created by the specified sender and the content unaltered)
Cryptographic stamp identifier (a credential associated with the invoice and stamp issued by ZATCA's e-invoicing integration portal)
Previous invoice hash (a mandatory alphanumeric code with special characters generated by the taxpayer's invoicing solution)
QR code (containing specified invoice data and visible on printed invoices)
Invoice counter (generated by the invoicing solution and representing each invoice issued via the system).
"We have been able to meet all requirements," continues Luciani. "From the initial data conversion through to required conversion into a QR code and integration back into the chosen ERP environment." Benefits include complete end-to-end compliance, real-time monitoring and tracking, secure communication via API, increased productivity, and quick implementation.
"All that is required from the customer is to continue creating invoices in the ERP system in the same manner as before. From there, our solution takes over and enables everything that is required," he adds.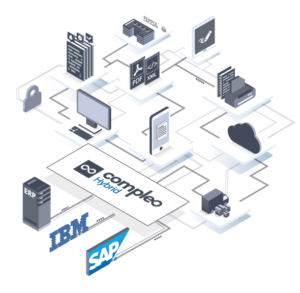 Symtrax has previously assisted a French company with KSA invoicing requirements. Its experience is also not limited to Saudi Arabia only, with successful implementations in France, India, Germany, Spain, Mexico, Belgium, and Switzerland that allow customers within those countries to meet government regulations across both centralized and decentralized platforms, together with any interface that may be required.
Moving forward, Symtrax has already signed two other Schneider Electric branches: Electrical Automation Saudi Arabian Manufacturing Company and Schneider Electric Systems Saudi Arabia Limited and is in discussion with two others. Although not always situated within KSA, certain Schneider Electric branches have Saudi Arabian invoicing requirements that mandate compliance with ZATCA.
"It is important to note that government regulations pertaining to e-invoicing are not only applicable to the organizations within that specific country," adds Luciani. "Any company, anywhere in the world, who has dealings with those countries will still need to comply irrespective of where they may be situated."
"We understand the rules and regulations," continues Luciani. Together with its proven digital business platform solution, Symtrax's customers can meet government requirements quickly and efficiently in as little as three months, as opposed to a normal expected implementation time, which can range between 12 and 18 months.
About Symtrax
Symtrax provides digital transformation and data exchange solutions. With 8 offices and over 3000 installations worldwide, our engineers and consultants offer all companies a complete set of document and data management solutions and services, no matter the industry.
For more information, please contact:
Janine Stapleton
UK Digital Marketing Lead
+ 44 (0)203 761 9806,
jstapleton@symtrax.co.uk
Vijeta Shetty
APAC Communication Manager
+91 22 4076 5524,
vshetty@symtrax.in