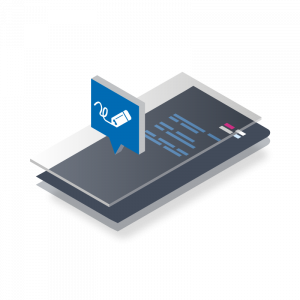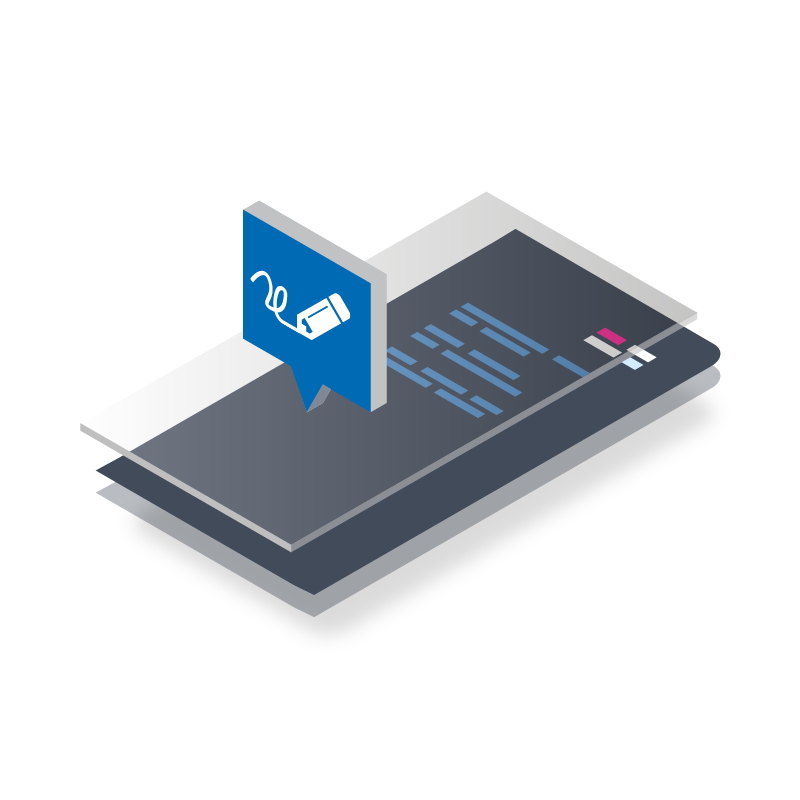 Get a company-wide digital signature workflow in a single solution
The use of a fully automated electronic signature solution to sign various documents is key to going paperless and for your company to embrace a truly digital approach.
While many solutions offer similar, standard e-signature features, it is best practice to select one at the forefront of technology, offering additional features to add greater value to your business.
Your optimal solution should seamlessly integrate with your existing back-office or ERP system, offering greater flexibility and control to your current workflow without causing disruption. A complete end-to-end solution that automates your e-signature process from releasing a document to storage allows you to monitor each stage of your document journey while maintaining document confidentiality and security.
Choose one solution for all your internal and external document needs to empower all employees company-wide through using an e-signature tool according to predetermined authorization access, without the restrictive limitation of individually licensed users.
Seamlessly integrate e-signature into your existing business process
Integrating an e-signature solution into your existing ERP can make business processes far more efficient. Specific, certified IBM I, SAP, or web API connectors help integrate your e-signature solution with your existing ERP seamlessly, without any special programming or consultant skills needed. Your solution can be up and running within days without disruption or delays to your IT environment, staff, or established workflows. E-signature integration is a one-time process.
Go digital by deploying electronic signature company-wide
Your corporate e-signature solution should not be limited to the number of licensed recipients signing or approving each document. Instead, you can go digital, embrace a more paperless process of signing documents by granting access to registered users with company-wide deployment. With a company-wide e-signature solution, cross-department collaboration becomes easier, and signing documents takes far less time.
Ensure traceability and governance for each e-signed document
Keep control of each document submitted to the selected e-signature workflow. Every step is automatically monitored and controlled from the time the business document is released to its return into your back-office. A predefined e-signature workflow automates each e-signing step and can combine an internal corporate network and external cloud exchange. Workflow integrated document security protects business documents from misuse or loss in manual handling. The registered internal user can enjoy document traceability by tracking the engagement of the requested e-signers and e-approvers during each step of the e-signature workflow in real-time.
Empower multiple users with a fully integrated, corporately deployed e-signature solution.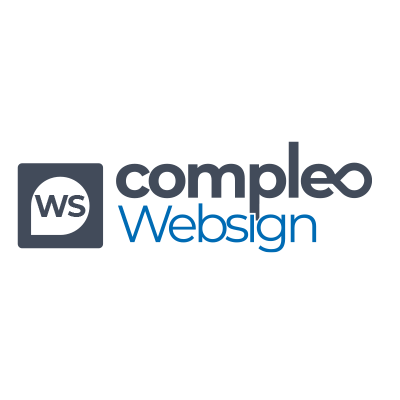 Benefits of a hybrid e-signature solution
Compleo WebSign operates as a hybrid solution, enabling both on-premises and external Cloud exchanges through its SaaS (Software as a Service) platform hosted by Microsoft Azure. Cloud exchanges of your e-signature process give users the ability to sign or approve anywhere, from any device, allowing your business to reduce delays and become more efficient.
Our WebSign digital signature solution coupled with our Compleo RPA (Robotic Process Automation) gives your e-signature tasks the ability to be optimized into fully automated workflows. Multiple connectors and drivers offered by Compleo RPA integrates your e-signature workflow with various platforms such as SAP, IBM, SAP Cloud Platforms or Amazon Web Services, Microsoft Sharepoints, and more using Web Services.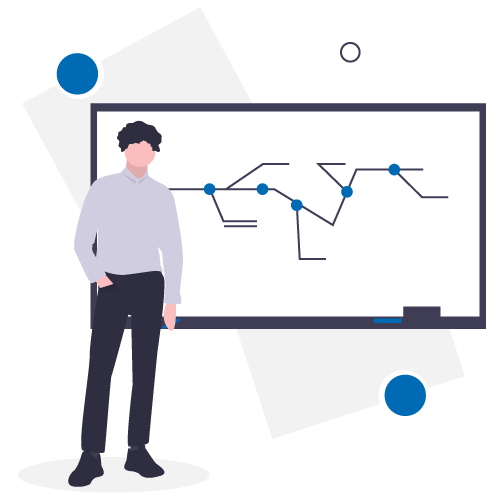 Flexible e-signature workflow to suit your business needs
Compleo WebSign offers flexibility on how your e-signature workflow is managed and applied, offering an automated option and an interactive, customizable one too. Through our Compleo Hybrid RPA, you can action predefined e-signature workflows to distribute bulk volumes of commercial documents automatically to recipients as soon as they are released. At the same time, selected documents can be transformed according to your specific business, customer, or vendor signature requirements and then placed back into the automated workflow to be distributed as planned. Choose the correct option for your business requirements as the need arises.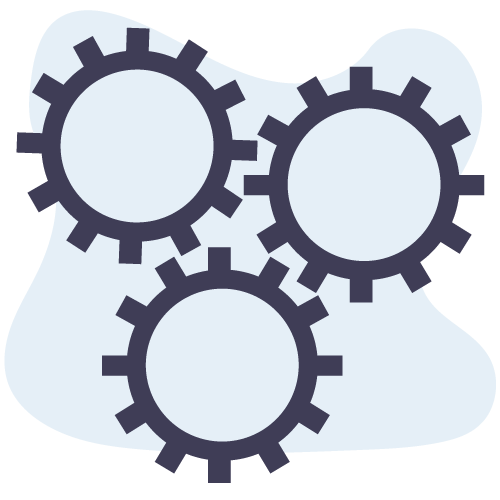 Monitor the status of your e-signature document
Compleo WebSign through Compleo Console provides an interactive and easy-to-use interface. Through this real-time reporting user interface,  authorized users within the company can enjoy secure access to their e-signed document status. This interface enables each user to monitor their document throughout the e-signature journey, providing details of the document e-signing steps in progress through to completion. See who has approved the document, signed it, rejected it, and held up the process.
Here the user can upload their e-signature document, decide if the document needs to be processed through a predefined internal or external signature workflow or both, and launch it to the recipients. Uploaded documents can be reviewed and edited before sending. Users remain in control of their business operations.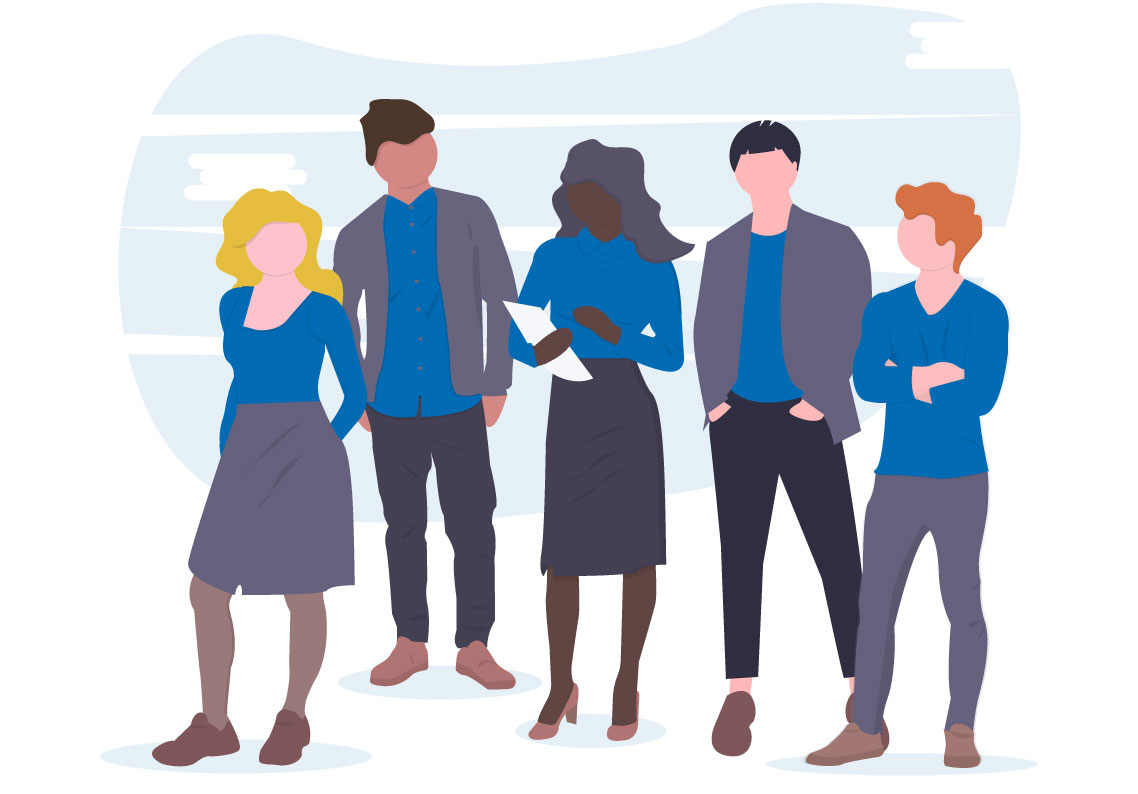 Flexible internal user management
Compleo WebSign offers a truly democratized approach to electronic signatures by providing a company-wide solution that all authorized executives, business users, or staff members can utilize. Even though this digital signature solution can be widely accessible, the administration of registered internal e-signers or e-approvers is handled by IT. Each internal user profile is created according to their predetermined authorization levels found in the active directory or the integrated security application. Therefore, accessibility to documents, the approval, and the authorization level given to each internal user to partake in the e-signing process is at the corporation's total discretion.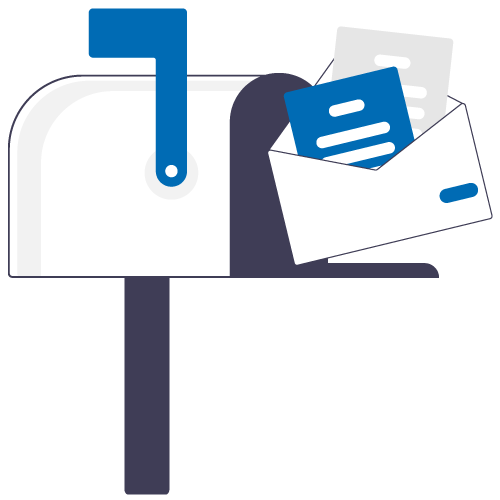 Customization of email notification and personalization of alerts
Compleo WebSign enables customized communication to be sent to all external e-signature document receivers. The email notification requesting e-signature contains a customizable message including document metadata and corporate identity. These emails are sent via the user's company server, rendering the source identifiable. Recipients rest assured that the email they receive is not spam but legitimate and safe to open. A more customer and vendor-centric approach are achievable through the use of this feature. As for internal alerts, these inform registered users about e-signing step completion, while the frequency and triggers of these are set according to individual business practices.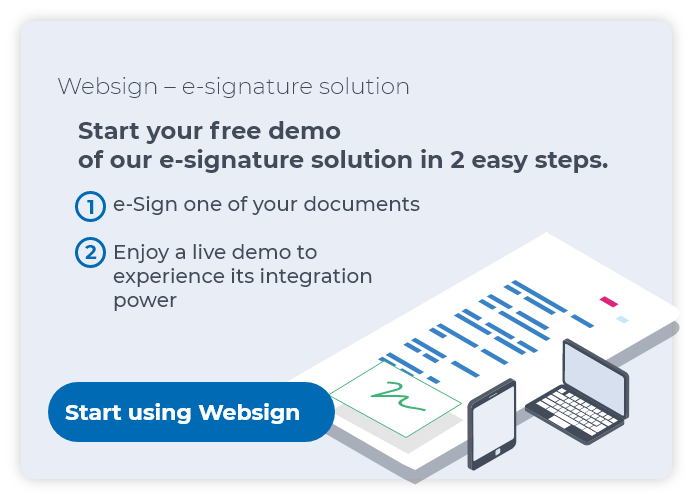 A fully-featured digital signature solution
Compleo WebSign includes all state-of-the-art digital signature features
Artificial Intelligence (AI) capabilities screen the PDF content to allow dynamic signature positioning.
Double authentication secures the e-signer identity is verified. Through this feature, selected external signers receive an email containing a URL linking to the document to sign. Once clicked, the user receives a six-digit code via SMS on their device to unlock the document.
Once signed and completed, an AATL (Adobe Approved Trust List) certificate locks and encrypts the document ensuring no amendments are made, preserving its authenticity.
Our audit trail feature includes all successive e-signing step detail such as email address, phone number, IP address, and GPS coordinate, which may be integrated into the final e-signed pdf delivering evidence of e-signers identities.
PDF metadata and multiple variables extracted from the document feed the e-signature workflow, easing the routing and the customization. Access missing information from various sources, such as a database.
Further to this, Compleo WebSign ensures e-signature document security by using an external SaaS architecture, preserving your internal network security while restricting accessibility to authorized personnel. Thanks to the Microsoft Azure platform, the receiving party is notified when a document is available. And for the sending party as well as the receiving one, there is no port to open.
Improve efficiency with an end-to-end e-signature document workflow
From the on-set, you can customize your e-signature document workflow to incorporate all the necessary steps to suit your internal and external e-signature workflow needs while streamlining the entire process through automation.
Integrating an end-to-end e-signature workflow enables complete control over the entire document journey from start to finish:
Retrieve any ERP, BPM, or CRM-produced source document.
Convert it into a signature-ready PDF template.
Distribute to the correct recipient.
Finally, return the e-signed document to the ERP or share it in a Cloud repository to be securely stored.
Workflow transparency and document traceability are optimized when making use of this end-to-end solution's interface.
Boost your business processes with a company-wide e-signature solution!
Schedule a free demo today!