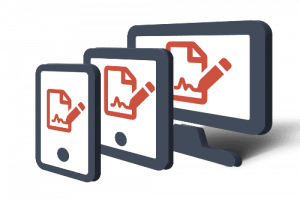 Easily connect with off-site vendors/customers
In today's rapid world, you need to be always on and always connected, whether in your office or on-the-go.
Because of this, you don't have time to upload documents for digital signature. In addition, your time and resources are too important to waste signing documents by hand.
That's where Compleo comes in. Here's how it works: first, our web-based solution sends a document link to your end-user. Then, they can input their name, title, add comments, and digitally sign their document with a single click. Further, this can all be done with their mobile device of choice.
In summary, using Compleo will make your digital signature process quick and easy.
Improve your business by digitally signing documents
Digitally sign business documents at any time, from anywhere.
Compleo Websign works with any kind of OS. This includes Android & iOS for mobile use.
Comply with your company's security protocols.
Store secure info in the document's meta-data for future reference.
Modernize your business
Digitally sign documents from any device
Business documents often need customer approval. These can range from sales orders to delivery notes, purchase orders, HR forms, contracts, and more. On a related note, you'll also need to account for different means of access.
With Compleo Websign, the end-user receives a URL by email or SMS. Then, the user can view and digitally sign using any device.
Further, a unique code may be sent via SMS to the end-user to ensure security. Each user will be able to add their own signature, too, whether by typing, drawing, or uploading an image of it.
Finally, the document will be ready for archiving, based on your settings.
Make the most of a paper-free process
Our user-friendly solution lets you to digitally sign all of your documents. Therefore, you can create a hassle-free and resource-saving workflow.
A user-friendly and secure digital signature solution
Easy implementation:
We can integrate with your existing environment without the need for major changes. Therefore, you can avoid the risk of disruption as you grow as a business.
On top of that, we take pride in how well our solution works with ERP systems such as SAP and IBMi.
Ensure document security:
We use two-factor authentication (2FA) to keep your documents safe. Moreover, you'll have greater security throughout the entire document journey.
Fast ROI:
Digitally signing documents will reduce your collection time and maximizes your returns. Due to this, you can skip the manual labor that comes with signing documents physically.
Keep track of your documents:
Track signed documents sent to customers and vendors. At the same time, you can have a consistent path for documents to follow after each signature.
Audit compliance:
Follow industry regulations and maintain compliance standards. Likewise, you can confirm document details as needed.