Validation & Signature
Digitally Sign With a Single Click
Boost transparency and accountability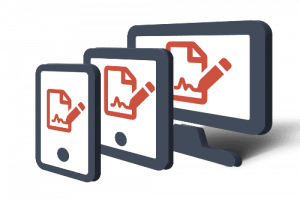 Encompass off-site vendors/customers
In today's fast-paced world, you need to be always on, always connected, whether in office or on the go. Manually uploading documents to be signed can be a time and resource-consuming task. With our web-based workflow, your signee receives a link to a document via email that lets them insert their name, viewing date, and digital signature instantly. They have the possibility to also sign using a mobile phone/ Tablet. This results in faster completion of process and collections.
Move business faster with easy acknowledgement
Sign business documents at any time, on a wide variety of devices, from anywhere.
The easy-to-use Compleo interface is designed to adapt to any kind of operating platform, including iOS and Android for mobile.
Security features integrate with your company's existing active directory services.
In addition, centralized certificates and signatures handle the digital signing of each PDF.
Traceability details are stored in the file itself for future reference.
Make business processes simple with modern capabilities
Sign documents with great flexibility from any device
Companies require numerous customers to approve Sales Orders, or Delivery Notes for example, or occasional Vendors to approve Purchase Orders. Receiver is notified with a document URL address to connect to, by email or SMS. Receivers view and apply electronic signature using Mobile phone or tablet. An additional secure code may be prompted on the Cell phone as well to authorize document read access. This is seamlessly possible with Compleo SaaS application named Compleo WebSign.
With Compleo Suite, keep up with the business trends and actions secured with better customer experience.
Establish a paperless process within your company
Compleo Suite handles everything from order confirmations to payment collections, including customer management, invoices, sales and purchase orders, and other departmental processes. Our user-friendly Compleo WebSign solution enables digital signatures for all relevant documents, creating a hassle-free, resource-saving system.
Securely boost productivity from any device
Easy implementation:
Our solution smoothly integrates into your existing IT infrastructure without the need for major changes.
Two-factor security (login/password + OTP on mobile)
Compleo Websign offers multi-level authentication, ensuring accountability and safeguarding your documents.
Fast ROI
Instead of mailing each document, getting the recipient to print and scan it, and then repeating the process over and over, the user can acknowledge the document in a single click. This quick turnaround reduces your collection time and maximizes your returns with minimal investment.
Ease of traceability
Along with reduced collection times, an optimal SaaS application should offer dynamic traceability. Compleo WebSign allows for easy document exchanges between customers and vendors via digital acknowledgment.
Audit compliance
Whatever you need to get signed, Compleo Suite tracks all documents and helps you adhere to relevant regulations for reliability and customer satisfaction.