Challenges
CavinKare, is primarily concerned with supplying FMCG and professional goods, and therefore has to deal with bulk purchase orders from various buyers. Prior to using Compleo, CavinKare had to manually enter the data from these purchase orders into excel sheets and process sales order details to SAP. Manually creating the sales order is labor-intensive, time-consuming and error-prone, requiring valuable staff to do the repetitive process. And one wrong entry during the manual entry could have major repercussions on business profitability and customer satisfaction.
Solution presented by Symtrax
The solution offered by Symtrax was to actively monitor the mailbox for incoming emails, and smartly capture the purchase orders from buyers. The data from these purchase orders are intelligently extracted and sales order related data is created in an excel file. Furthermore, these excel sheets are distributed to the end users who can then upload the SO data to SAP or archive it locally. Real time creation of sales order ensures efficient delivery and helps realize benefits immediately.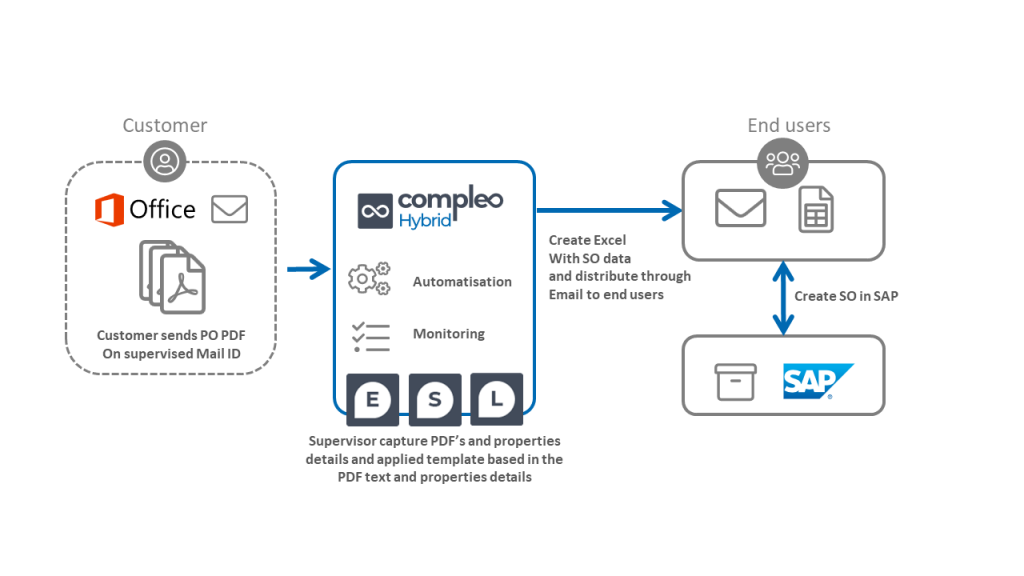 "Compleo has been helpful in automating processes which were manual, thus increasing efficiency and reducing errors. This has helped fasten our Order to cash process."

R. Loganathan DGM, IT CavinKare
Process Flow and Benefits
Compleo offers an RPA solution to automate complex business processes. It eliminates the need of manual intervention by intelligently detecting all incoming purchase orders and creating excel sheets with data for the corresponding sales order. The Compleo modules also consecutively map the extracted data into organized output files and archives them automatically. It's intricate design also allows email configuration to automatically route the output files to the end users.
CavinKare
CavinKare was founded in 1983 and has since transformed from being a manufacturer of personal care products, to becoming a FMCG conglomerate with good consistency in dairy, snacks, beverages and professional products business. CavinKare has recently been awarded with Champions of the Rural Markets Award at the 6th edition of The Economic Times Rural Strategy Summit 2018. Over the years they have developed leading expertise in the field of business and marketing.