Compleo helped us replace the legacy system we used globally. The aspects of Compleo like multi-lingual support, automated distribution, and flexibility, together with quick implementation, made transitioning easier. Also, it worked equally well with both our on-premises as well as cloud-based ERP, thus helping us to manage global operations with single tool.

IT Services Manager
Challenge
The global defense and aerospace company operates from multiple manufacturing locations. This raises the need for their business documents to be compliant in each region, no matter what the changing regulations may be. For them the multi-channel document distribution was a painstaking process needed across multiple operating regions. They had data scattered across multiple input files from multiple operating regions, which needed to be consolidated into a single tool for processing and generation of PDFs, and the PDFs had to be then distributed to end locations. Before Compleo, the company was working with a legacy system that needed to be replaced with something more technologically advanced, innovative, and flexible to make transitioning smoother.
Solution presented by Symtrax
Compleo was able to work with their existing setup by making minimal changes to their ERP, all while offering support for on-premises and cloud-based ERP instances. The input documents from their MFG pro ERP system were captured by Compleo using an automated process. The output from this process dispersed data into multiple text files, which were customized to match location and language requirements, eventually being split into spools for easier processing. Using Compleo's AI capabilities, these files after processing, were logically organized, merged, and reformatted to dynamically generate PDFs based on custom pre-requisites for each document.
The final templates were designed both by using static data input from the text files and by fetching essential information from the database. Compleo modules include a multiple-language support feature that was used to filter out the input documents depending on their target location. Finally, a business-ready output PDF document was created.
In addition, Compleo handled distribution automatically, as documents were sent via email, archived locally, and printed to their respective destinations using intelligent routing techniques. Furthermore, Compleo enabled users to select the desired printer.
Benefits and key features:
Multi-language and region-specific document support
Their documents had the requirement to meet regional formatting specifications. Compleo was able to provide them with a solution that processes documents to meet specific language and location needs. This ensured each designated business unit received the document in the desired format.
With RPA and other efficient handling techniques of Compleo, scattered files were split and then re-organized logically. This allowed for faster processing and easier output document formatting.
Compleo provide further customization to help the requirements of material data encryption in barcodes for easy checking, inclusion of corporate tags and brand specifications.
Process automation and efficiency
The entire document process, from picking up input text files from a designated folder to document delivery, was automated.
With Compleo automating this process, they were able to save resources and also manage deliverables on time.
Real-time monitoring and distribution
Business documents were emailed to pre-defined recipients, archived in a specified folder, and printed at the desired geographical location, all based on customer needs.
Compleo effectively satisfied their requirement of flexibility in deciding which output printer to use.
Compleo monitored the entire distribution process in real-time, therefore making it easier to track and ensure successful document delivery.
Dynamic adaptability and independency
No system changes were needed for any of the standard operating procedures. Compleo worked independently from other critical processes, thereby ensuring both process and document security.
Compleo's solution is set to adapt to future needs with flexible and intuitive solutions.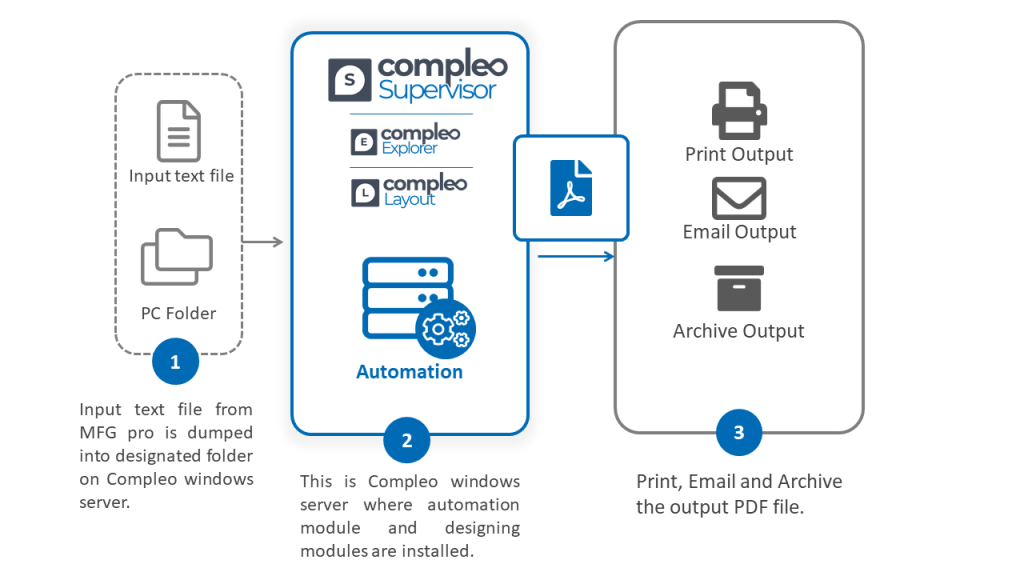 Result
Compleo Suite helped the company replace their legacy system with a modernized, state-of-the-art solution. It automated the document creation, conversion, and distribution process across multiple operating locations. With effective data mapping and extraction, the text documents were successfully converted to print-ready output as PDFs.
What's more, our multi-language support helped identify where each document needed to be sent and updated the formatting automatically. Each output location defines a unique format for the purchase document, which was handled with absolute precision and proficiency. Ultimately, they were able to seamlessly integrate Compleo into their existing infrastructure and successfully adapt to their expanding business needs.
Leading designer and manufacturer of advanced motion control systems for applications in aerospace, defense, industrial and medical devices. Their control systems have expanded to improve precision in fluid control mechanics along with sophisticated system dynamics.