Background and Challenges
As of October 1st, 2020, e-invoicing has been implemented in India under GSTN as a mandatory parameter for business transactions. This puts companies under legal compliance scrutiny to adhere to government guidelines and process invoices electronically.
Sungrow needed a solution that would help ensure compliance with government protocols. In addition, they also required their e-invoicing process to be integrated, automated, and seamless without having to make changes in their existing invoicing process.
Solution presented by Symtrax
The goal was to not only have a solution in place for effective GST e-invoicing , but also provide for an independent system without the need for internal system reconfigurations. With this in mind, Symtrax brought forward a SaaS-based solution that would operate independently and keep the existing setup safe from major changes.
Here's how the solution works. First, Sungrow uploads their documents (including credit notes, debit notes, export invoices, and tax invoices) to a central repository. Using cloud-based automation and intelligent monitoring, Compleo Hybrid can capture invoices and process them further for data extraction. All required and relevant data is picked up and converted into a JSON format, which is then uploaded to the Invoice Registration Portal (IRP). Upon successful registration on the IRP, GST portal, and NIC E-way bill portal, Compleo automatically captures a response JSON. Using pre-defined templates and document formatting modules, a final invoice PDF (print ready) is generated from the response JSON with the Invoice Reference Number (IRN) and digitally signed QR Code. An E-way bill PDF is also generated. This final consolidated PDF is then sent back to Sungrow's central repository, where they process the invoices further as per their business needs. These invoices uploaded to the IRP are also made available on a user-friendly dashboard, so the company can monitor each invoice's status and perform certain intended actions. Examples include: cancellation, re-processing documents upon unsuccessful registration, viewing input and output document details, exporting invoice details into an excel sheet, and extending validity and transporter details update for E-way bills.
Sungrow - Process Flow and Solution Architecture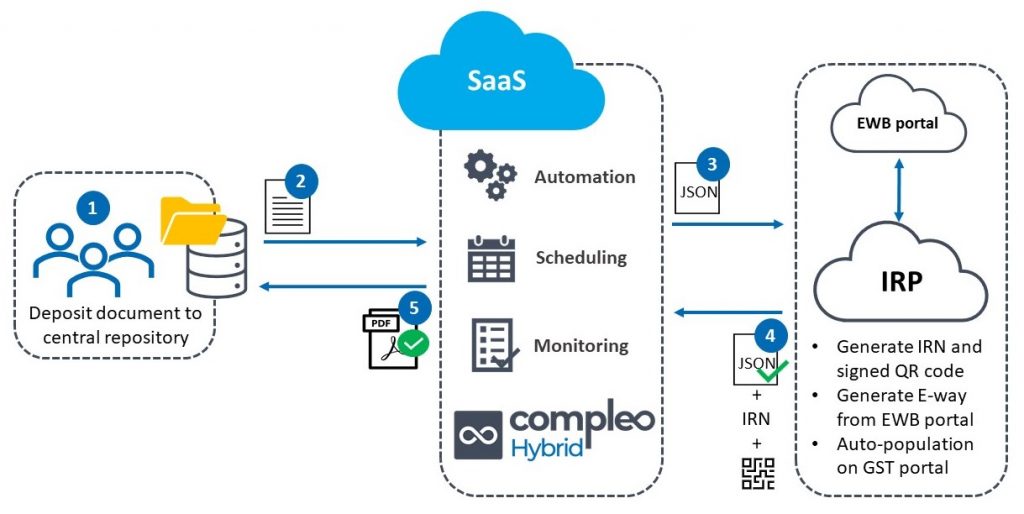 "Symtrax operates by keeping their customer's convenience and business continuity at the forefront. Compleo's SaaS infrastructure and automation techniques are based around offering a seamless experience to the users. This was a tremendous advantage for us in terms of adapting to the new e-invoicing and e-way bill guidelines without any problems along the way"

Mr. Ramesh SH
Manager Sales & Support
Sungrow India
Process Benefits
Invoicing Process Automation with Compleo
Using Compleo's SaaS-based solution, the process and transition towards GST e-invoicing was successfully done in a week.
Compleo doesn't require any programming efforts for implementation.
Sungrow has complete process automation without hampering its existing business functionality.
In addition, Sungrow now has a comprehensive user dashboard to monitor invoices sent to the IRP for registration in real-time. This provides easy navigation and quicker actions.
Compleo lets users customize electronic invoices with enhanced document formatting options.
Result
Using a cloud-based approach resulted in the quicker implementation of e-invoicing under GST. With minimal manual input, and great customer support from Symtrax, Sungrow was able to meet all compliance standards without any hassle or system disruptions.
Sungrow
Sungrow Power Supply Co., Ltd ("Sungrow") is the world's most bankable inverter brand with over 120 GW installed worldwide as of June 2020. Founded in 1997 by Professor Cao Renxian, Sungrow is a leader in solar inverter research and development. Their accomplishments include the largest dedicated R&D team in the industry and a broad product portfolio offering PV inverter solutions and energy storage systems for utility-scale, commercial, and residential applications, as well as internationally recognized floating PV plant solutions. With a strong 24-track record in the PV space, Sungrow products power installations in over 120 countries, maintaining a worldwide market share of over 15%.
Sungrow is committed to providing clean power for all by offering a wide range of solutions and services to advance clean power conversion technology.