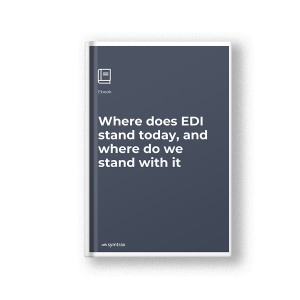 At this point, it seems that businesses trying to stay relevant are not in a race against one another but in a race against time itself. That statement might seem like a stretch, but the truth is that it is quite easy to become irrelevant these days, exclusively considering the fact that technologies are evolving drastically, and simultaneously demanding change for the better. Exhibiting a sense of reluctance in adapting to change can be the beginning of irrelevance.
Your B2B network needs to be substantially optimized to facilitate critical business processes and maintain a robust relationship with your business partners. When we include the likelihood of maintaining and managing a sophisticated yet comprehensible B2B channel, at its foundation we have Electronic Data Interchange (EDI).
EDI can be the cornerstone of the B2B connectivity because of its extensible use in various sectors across various departments, overlooking many business processes. According to a study by Forrester, EDI transactions are at more than 20 billion annually and growing. In 2019, EDI accounted for 78.9% – $7 trillion – of all B2B electronic sales, according to a data analysis report in the 2020 B2B E-commerce Market.
This eBook explores every nook and cranny of EDI, where it stands today, and where do we stand with it. It scrutinizes the core competencies of how EDI works across various ecosystems and trading channels, what standards it follows, and implementation options. To throw some light on the various intricacies discussed in this eBook, here are a few:
What is EDI and how it came to be? Its evolution over the years and the acknowledgment of its foothold across essential service sectors.
Why and how is EDI still relevant in this era of ever-changing technologies?
A well-needed comparison between a manual B2B process and the same done through an EDI-enabled environment.
The benefits.
EDI being a standard-specific process, it discusses some of the most commonly used and accepted standards such as: ANSI X12, UN/EDIFACT, RosettaNET, Tradacoms, and more.
Necessary factors that need to be considered before deciding on an EDI communication protocol.
The various communications protocols including: FTP (File Transfer Protocol) and VPN (Virtual Private Network), SFTP (Secure File Transfer Protocol) and FTPS (File Transfer Protocol Secure), and AS2 (Applicability Statement 2).
Welcoming EDI for the better and the phases involved that guides you through the process of evolving from initial EDI stages towards having a more strategically enhanced EDI infrastructure.
The two EDI implementation options: Direct EDI approach with in-house EDI implementation, or through Value-Added Networks (External Service Providers).
The advantages of using a Value-Added Network (VAN) and how can it prove to be a better way to shift towards EDI.
Symtrax offering in line with essential EDI requirements, along with the discussion of various success stories from clients that required an EDI solution for:

Document conversion and deposit process for a leading FMCG industry pioneer.
Purchase order to sales order conversion into an XML format for a healthcare giant.
Automating the GRN (Goods Receipt Note) creation process for another customer.
End-document distribution with enhanced EDI for the largest soda ash manufacturer in the world.

Practical use-cases of EDI in day-to-day business scenarios particularly pertaining to the supply chain.
The impact of EDI on the supply chain and some of its most critical business processes which include:

Procurement and sales process.
Streamlining shipping and receiving communication chain
Facilitating Payments and Accounts activities