"Using Compleo's digital signature solution, made us more compliant and helped us reduce manual efforts altogether. With automation, our processes became more efficient and reliable."
Srinivas Rao G - Chief Manager - IT
Challenges
Before going ahead with Compleo, Pitti engineering had no provision to apply digital signature to SAP generated invoices. SAP generated invoices had to be printed as hard copies and signed manually for all relevant business purposes. Unavailability of digital signature solution and proper document automation caused time management and productivity issues to rise at an alarming rate.
Solution presented by Symtrax
Symtrax provided solution for the same wherein SAP invoices are automatically captured in real time and intelligently routed to remotely located designated signatory for signing. Once signature was applied, Compleo automatically distributed the signed copies of documents.
Using relevant modules, Compleo streamlined and automated the process to maximum extent. Everything from formatting invoices to adding digital signatures and routing was a part of the solution offered for their existing scenario.
Process flow and Benefits
Compleo for Pitti Engineering
Compleo offers exclusive formatting tools for invoice spools. Compleo modules collaborate to alleviate the burden of manual procedures.
Compleo's continuous monitoring technique leaves absolutely no area for errors or mismanagement. Every captured spool file is seamlessly routed to the desired or specified location.
With Compleo's architecture, the user only has to digitally sign the document to finalize the transaction from both ends. Additionally, Compleo handles printing of the signed invoices as a part of automated processing.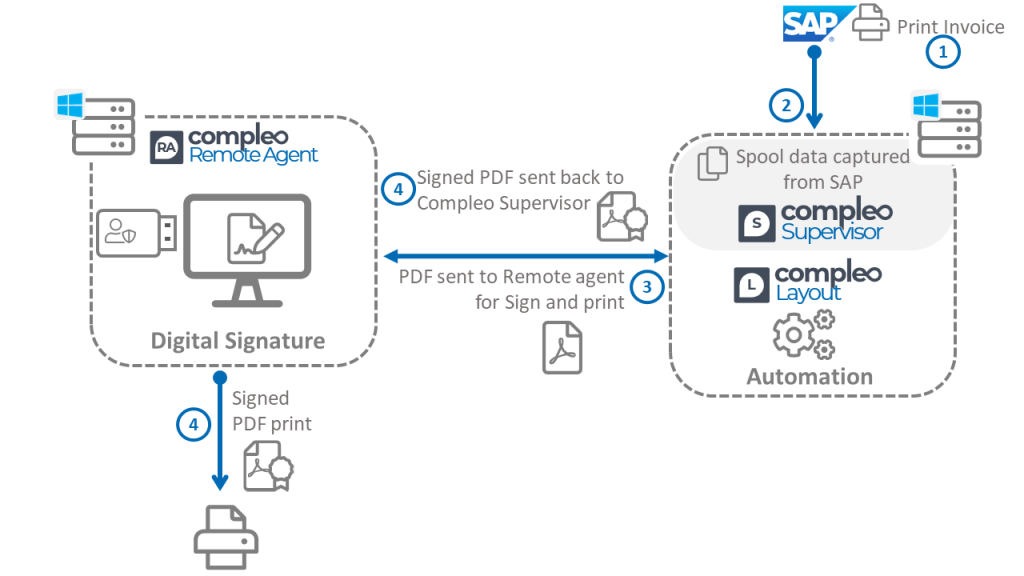 About Pitti Engineering
Pitti Engineering Ltd. was founded in 1983 and is one of the leading manufacturers and also exporters of Electrical Steel Laminations, Steel fabricated parts and Die-cast rotors. They are proud to be credited with being the first lamination manufacturer in India and have also been awarded for their excellence in quality, Industrial achievement and Industrial promotion.