PPG Asian Paints Pvt Ltd is a joint venture between PPG Inc. of USA, the world's leading coatings company, and Asian Paints Ltd, India's largest producer of paints and coatings.
Incorporated on February 1997, PPG Asian Paints offers value by closely tailoring its offerings to customer requirements while providing superior service. Today, PPG Asian Paints is a leading supplier of paints and coatings in diverse markets, including automotive, industrial, marine, and packaging sectors.
Apart from professional work, the company has also undertaken impactful and essential initiatives such as Corporate Social Responsibility (CSR) and Environment, Health and Safety (EHS) which helps govern steps taken towards community contribution and environmental safety measures.
Initial Situation & Challenges
To start with, PPG Asian Paints already had an HSM (Hardware Security Module) in place to digitally sign documents. The company had connected their output PDF designer software (Adobe LiveCycle Designer) to the HSM using ABAP programming to complete the signing process. These final documents would then be pushed to SAP ERP and remotely printed across depots.
The first and the most concerning challenge they faced was that the digital signature applied to PDFs would not be displayed as required and become invalid after being uploaded to central repositories or sent through email to clients. This tends to become a compliance concern for those customers who cannot receive the signed document in a desirable digital format.
Another process requirement was the need to print the correct documents at their operating locations. Performing a print action directly from SAP would result in a delay at times, presenting difficulties. In addition, they would generate multiple copies of the same document for further distribution.
Delays would ultimately require users to trigger processes manually, consuming a large amount of time. PPG Asian Paints needed a more efficient way to ensure each document was signed, sent, and printed.
Solution presented by Symtrax
Symtrax uses certified SAP connectors to integrate seamlessly across business environments. This also allows for effective automation, in which no manual intervention is required.
First, the user directly performs the print action from SAP. This generates a spool file which is then captured by Compleo Hybrid (a Symtrax document management solution). Using PPG Asian Paint's HSM, our digital signature software solution applies a secure digital signature to the document, which is then routed to remote locations for printing and storage.
To meet the client's printing challenges, Symtrax installed a Compleo remote printing module across their depots to print all of the digitally-signed documents in real-time. As a result, all compliance protocols are met when the documents are centrally archived and emailed to intended customers and/or concerned authorities.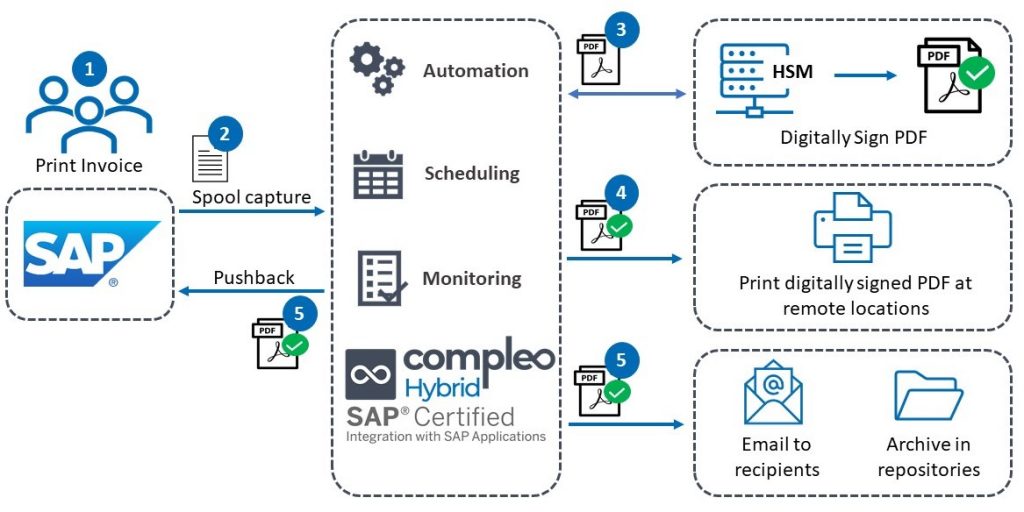 One of PPG Asian Paints' customers had a specific EDI requirement that needed to be met. Each invoice needed to be converted into a hexadecimal data format and uploaded directly to a pre-defined repository using their API, all after the digital signature was finished. From there, the data was then validated and finally updated on the ERP. Compleo was able to perform API calls to meet the customer's requirement for said conversion and upload in real-time, without the need for manual intervention and in real-time.

Process Benefits
Compleo is implemented without ABAP or other programming, which not only saved resources, but also resolved the company's digital signature compliance concerns.
Certified SAP connectors made integration easier, secure, and reliable.
Compleo solved their printing concerns with a real-time remote printing solution. This also removed the transitional hassle of processing documents manually.
With Compleo's document formatting modules, their SAP documents were now updated and enhanced to match company standards.
Document distribution and archiving were automated for future reference and easier accessibility to meet both customer demands or business needs.
A large volume of documents could now be processed in bulk along with the ability to create multiple copies for simultaneous use and storage.
Advanced EDI capabilities allowed for seamless cross-platform data and document exchange.
Result
PPG Asian Paints had primary as well as peripheral challenges impeding their compliance and overall productivity. Symtrax was able to offer a complete solution that resolved their concerns regarding everything from compliance to manual redundancies.
"We were actively looking for a solution that could not only resolve our issue with digital signature validation but also make document exchange flawless using EDI communication. The introduction of Compleo into our business process helped with sending the digitally signed business documents directly into the client's portal through API integration. We look forward to digitizing our other processes using the Symtrax solution."

Harish Kumar – Sr. Manager Systems